In the shiny world of automatic everything, we often forget that basic can be better. And, as I'm sure lovers of an authentic brew will agree, this is most definitely the case with the manual coffee grinder.

Grab Our Top Choice on Amazon

Are you awake before everyone else in your household and worry about the noise of an electric grinder waking them? Would you like to grind on the go and make use of that wasted time spent sitting in traffic? Is the thought of not being able to get your caffeine fix preventing you from embarking on activities like camping or hiking? Or do you simply love fresh coffee and want to experience it in the best way?
If you answered yes to any of the above, I have great news for you. A hand coffee grinder could be the perfect product for you as it is for coffee fiends around the world.
On top of being a practical product, a manual coffee grinder is also perfect for those who view making coffee as the delicate craft that it is and those who appreciate the journey from bean to cup.
So, if you're in the market for the best manual coffee grinder; sit back, relax and pour over this article.
Our Top Choice – The Best Manual Coffee Grinder
If you aren't in much of a reading mood, we'll spill the beans right here for you! The HandGround Precision Coffee Grinder features at the very top of our list of the best manual coffee grinders, and thus gets our recommendation as the best choice for coffee grinding.
The design of this hand grinder is simply stunning. The HandGround Precision Coffee Grinder is compact, stylish and has a modern finish that would complement any kitchen. If you don't plan on using it at home, that's not a problem as the HandGround Precision Coffee Grinder is lightweight and easy to transport.
With 15 grind settings to choose from, plus a side mounted handle and grip pad this hand grinder ticks all the boxes in the convenience column. A large capacity of 100g means you can grind enough beans for up to nine cups of coffee in one go.
And topping it all off is a 1-year full coverage warranty. It's hard not to love this product.
Sale
Top 15 Hand Coffee Grinders in 2022
There are so many different grinders on the market these days. This is good news because the best hand coffee grinder is bound to be out there for you to discover.
That's where we come in.
Deciding on which one to pick can be challenging and time consuming, especially if you aren't familiar with the ins & outs of manual coffee grinders. Now we've done the hard work for you to ensure that the hand coffee grinder you buy from this list will be a worthwhile investment.
For your convenience, all products are linked to Amazon, so when you find the one you want you can just go ahead and click the link. Please note that we are a participant in the Amazon Service LLC Associates Program, a program designed to provide revenue to blogs like CoffeeMakersAdvisor. If you purchase a product on Amazon, we receive a small commission, which allows us to continue to create the best coffee content.
Without further ado, here are the 15 best manual coffee grinders available on the market today.
Our top manual coffee grinder is the result of a Kickstarter campaign created by Daniel Vitiello and Brandon Warman. The immensely popular HandGround Precision Coffee Grinder is easy to use, clean & transport and is known to deliver a consistent grind.
The HandGround Precision Coffee Grinder allows you to choose a setting and use it repeatedly, which is a fantastic time saving feature. With 15 clearly marked grind settings to choose from, allowing you to adjust the coarseness in many different ways, this hand grinder is suited towards almost all brewing methods.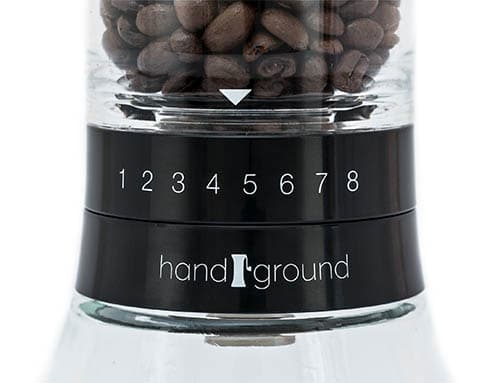 FEATURES:
15 grind settings to choose from
Side mounted handle
Grip pad
SPECIFICATIONS:
Dimensions: 6" x 4" x 8.5"
Burr Material: Ceramic burr
Weight: 789g
Capacity: 100g
PROS
Large capacity
Consistent grind
15 grind settings to choose from
1-year full coverage warranty
CONS
Expensive when compared to other manual coffee grinders
Slightly taller design makes it less portable than other hand grinders
Sale
2. Porlex Mini Stainless Steel Coffee Grinder
The Porlex Mini stainless steel coffee grinder is the backpacker's best friend! This solidly built, compact product boasts a stylish minimalist design that is appreciated by many. In addition to the removable handle, the Porlex Mini stainless steel coffee grinder is small in both size and weight so traveling with it is extremely easy.
Its small size is indicative of its limited capacity, which means it is not ideal for home or commercial use. The Porlex Mini is perfect for those who want a good cup of coffee on the go or while traveling.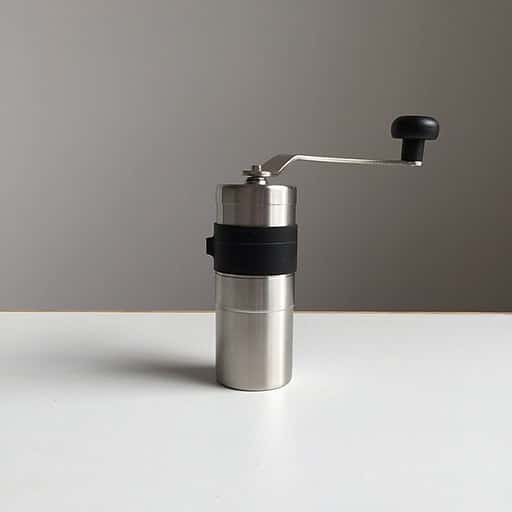 FEATURES:
Stainless steel body
Removable handle
13 grind settings to choose from
Aeropress compatible
SPECIFICATIONS:
Dimensions: 6" x 2.3" x 1.8"
Burr Material: Ceramic conical Burr
Weight: 226g
Capacity: 20g
PROS
Easily portable thanks to its lightweight design
Consistent grind
CONS
Smaller capacity
Time consuming to achieve a fine grind
Expensive when compared to other manual coffee grinders
Hario was founded in Japan back in 1921 and has been producing high quality coffee mills ever since. The large hopper capacity coupled with its stylish design makes the Hario Skerton Ceramic Coffee Mill ideal for at home usage.
The Skerton Ceramic Coffee Mill is a popular manual coffee grinder amongst coffee drinkers worldwide. Reasons include its compact design, how easy using it is and the consistent grind it delivers.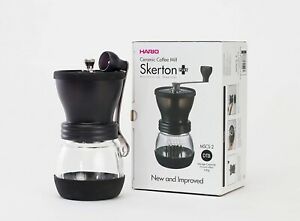 FEATURES:
Nonslip rubber base
Detachable crank handle
Easy disassembly
SPECIFICATIONS:
Dimensions: 16" x 11" x 13"
Burr Material: Ceramic conical burr
Weight: 566g
Capacity: 100g
PROS
Large capacity
Affordable
Compact and durable
CONS
Not as easy to grind when compared to other manual coffee grinders
It's less portable due to its heavier construction
Grind settings aren't marked, so achieving your desired grind can be difficult
Comandante is a German company that is well known and loved for their manual coffee grinders. The Comandante C40 MK3 is extremely lightweight, making it a favorite amongst travelers. With a transparent ground container, you will always know how your grinding is progressing.
The rugged stainless steel body makes for a long lasting product while its industrial looking design makes it an aesthetically pleasing one.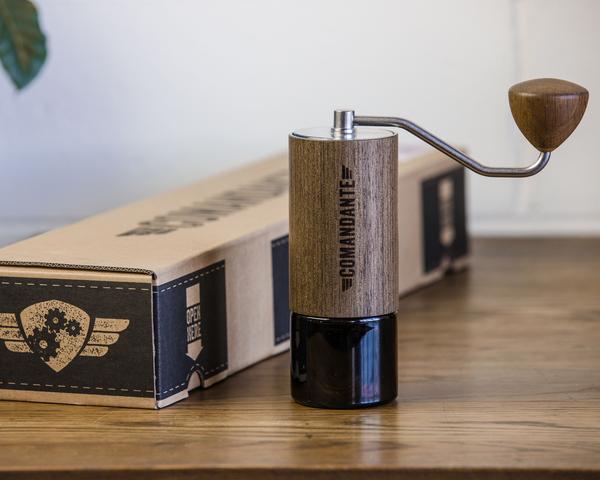 FEATURES:
Double axle bearings
Grind setting dial
100% natural Oak wood knob
2 containers included
SPECIFICATIONS:
Dimensions: 6.3" x 2.4"
Burr Material: Stainless steel conical burr
Weight: 740g
Capacity: 40g
PROS
Multiple grind settings to choose from
Made from high quality materials
Easy to transport
CONS
Expensive when compared to other manual coffee grinders
Small capacity
This Vintage Style Coffee Grinder brought to you by Foruchoice is a stunningly designed vintage styled coffee maker perfect for grinding coffee beans, herbs, nuts and more.
Not suited towards heavy usage, the Foruchoice Vintage Style Coffee Grinder is perfect for people who drink one cup of coffee a day or even less frequently. The manual hand crank is easy to use and the catch drawer serves its purpose well with minimal mess.
FEATURES:
Vintage design
Ergonomic handle
No mess container open drawer
SPECIFICATIONS:
Dimensions: 4.3" x 4.3" x 10.6"
Burr Material: Stainless steel burr
Weight: 1075g
Capacity: 40g
Khaw-Fee is a family owned and operated company that has been delighting coffee aficionados with their HG1B Manual Coffee Grinder. The compact HG1B is easy to use, beautifully crafted and boasts an extremely low operating noise.
While lightweight, we wouldn't recommend using the Khaw-Fee HG1B while traveling as the hopper is made from glass.
FEATURES:
Rubber top
Removeable silicone base
Built-in adjustable grind selector
Unlimited adjustable grind settings
SPECIFICATIONS:
Dimensions: 9" x 4.8" x 4.8"
Burr Material: Ceramic conical burr
Weight: 286g
Capacity: 1 cup
PROS
Lifetime warranty
Affordable
Unlimited adjustable grind settings
CONS
Glass hopper is fragile so not appropriate for transportation
To adjust grind settings, you need to remove the handle
Orphan Espresso is a reputable e-commerce business located in the rural north of Idaho that specializes in the manufacturing of manual coffee grinders. The Lido 3 features a full grind range, meaning it is suited towards all brewing methods.
Compared to OE's previous model, the Lido 2, the OE Lido E Manual Coffee Grinder is specifically designed to be the traveler's perfect coffee companion. It has reduced weight and a streamlined profile.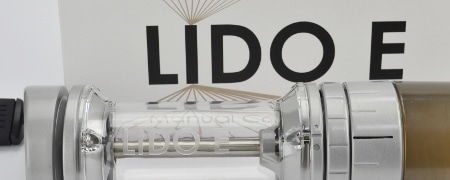 FEATURES:
Folding crank handle
Soft grip handle knob
Full grind range
SPECIFICATIONS:
Dimensions: 13.5" x 3" x 3"
Burr Material: Steel conical burr
Weight: 1052g
Capacity: 72g
PROS
Large capacity
30 day warranty
CONS
Adjusting grind settings is time consuming
It's less portable due to its heavier construction
Expensive when compared to other manual coffee grinders
The Hario Mini Mill Slim Hand Coffee Grinder is a great option for people who are just starting out in the world of hand grinding and need to cover the basics. A consistent grind is all but guaranteed.
The Hario Mini Mill Slim Hand coffee grinder is the definition of simplicity. Its stylish slimline design makes the Hario Mini Mill Slim easy to hold, use, clean and maintain.
Sale
The ROK Coffee Grinder is also the result of a crowdfunding project that has made many a coffee lover very happy. The streamlined, industrial look of the ROK Coffee Grinder is a favorite among users and will look at home in the modern kitchen.
The ROK Coffee Grinder is easy to use and is made from high quality aluminum so it is durable and built to last. Due to its large and bulky design, the ROK Coffee Grinder is not ideal for traveling but perfect for at home grinding.
ROK Coffee Grinder, Aluminum
Switch between stepped or step less grinding with an easily...
Grind consistency and stability on par with electric grinders
JavaPresse was launched in September 2015 and has been making waves within the coffee community ever since. The JavaPresse Manual Coffee Grinder is a neat, compact and beautifully designed hand coffee grinder that constantly delivers a consistent grind.
The detachable hand crank means that traveling is made easy with the JavaPresse Manual Coffee Grinder. The stainless steel body ensures that it will last as long as your travels do.
Sale
Simplicity is key when it comes to the Norpro Hand Coffee Grinder. This affordable hand coffee grinder delivers a surprisingly consistent grind and, when used sparingly, is as practical as it is pretty.
Not suited for everyday use, this is a great option for single coffee drinkers who don't drink copious cups of coffee. The novelty design of the Norpro Hand Coffee Grinder makes this coffee grinder double as a decorative antique-style ornament for your kitchen or a niche gift for a fellow coffee lover.
Sale
This one is for the Aeropress lovers out there! The slim and stylishly designed Manual Coffee Grinder with Ceramic Burr by Cozyna perfectly fits the Aeropress container. However, you aren't limited to just using this manual coffee grinder with Aeropress; you can also use it independently.
A clear window allows you to monitor how much you've ground, with the maximum capacity being 30g. The window is a handy feature for those who want to stay in control of the process. The Manual Coffee Grinder with Ceramic Burr by Cozyna is suited more toward coarse grinds as achieving a fine grind is quite difficult.
The JP-30 Stainless Steel coffee grinder is brought to you by Porlex. The Porlex JP-30 is a durable little device that has a sleek, compact design which makes for easy transportation. This hand grinder boasts a static free stainless steel body, for your comfort and ease of mind knowing it will last long.
The lightweight but solid build of the Porlex Jp-30 Stainless Steel Coffee Grinder makes this perfect for on the go coffee lovers and outdoor enthusiasts alike. The stainless-steel body ensures a lasting product.
The Ultra Grind Manual Coffee Grinder is a small, stylish and slender manual coffee grinder brought to you by Meuller Austria. Pick from over 18 grind settings and enjoy a cup of Joe produced by any brewing method.
The Ultra Grind manual coffee grinder is a popular choice amongst coffee enthusiasts worldwide because of its premium lightweight design, affordable price and extra quiet operation.
Zassenhaus has been manufacturing manual coffee grinders since 1867 so it's safe to say they know a thing or two about coffee grinders. Their extensive knowledge and brilliant craftmanship is evident in the Santiago Mill Grinder.
While slightly larger than other manual grinders available on the market, this coffee mill is still smaller than most electrical grinders and is a great option for grinding at home.
The traditionally designed knee style grinder not only looks great but is suited towards daily use. The beautiful mahogany finish on the Santiago Coffee Mill Grinder is the perfect finishing touch.
How to Choose the Best Manual Coffee Grinder
Even though it seems like such a simple product, there are actually many aspects to consider when you're looking to purchase a manual coffee grinder.
From the burr type, to the hopper capacity—many features determine a manual coffee grinder's quality.
Here are seven important factors to consider when shopping around for your hand coffee grinder:
Grind Settings
These days life is all about having choices and society is spoiled for choice! When it comes to selecting a manual grinder, you want to have different options available too. If one day you want a fine grind for a shot of espresso and the next day you want a coarse grind suited towards French Press coffee—your grinder should accommodate those needs.
The best manual coffee grinders boast multiple grind settings. Most of the products found on this list include over 15 grind settings to choose from—many of which can even accommodate Turkish coffee.
Capacity
The capacity of a manual coffee grinder is essentially how many coffee beans it can grind in one grinding session. Evaluate your needs and make sure that the manual coffee grinder you select has the capacity to meet your coffee needs without you struggling too much.
The general guideline to understanding capacity is:
7g+ equals 1 cup
20g+ equals up to 2 cups
40g+ equals up to 4 cups
100g+ equals up to 9 cups
If you drink cup after cup of coffee or make coffee for groups of more than four people in one go, a hand grinder won't be the ideal option for you.
Burr Type: Ceramic vs. Steel
When looking at manual coffee grinders we generally see two types of burrs: ceramic burr grinders and steels burr grinders.
The debate as to which is the better burr is ever brewing in the coffee community. The deciding factor seems to be personal preference.
In terms of similarities both burr types are easy to clean, use & maintain and both result in ground coffee.
As far as the differences go, there are a few. Here are the most prominent differences between ceramic burr grinders and steel burr grinders:
It is common knowledge that heating coffee beans impacts the flavor of the resulting coffee. Ceramic burrs generate less heat than steel burrs, which means there is no risk of the coffee flavor changing.
While neither option has a particularly loud operating noise, a ceramic burr will produce less noise than what a steel burr would.
Steel burrs are much sharper than ceramic burrs. In saying this, while not as sharp as a steel burr a ceramic burr stays sharper for longer.
Steel burrs are known to be extremely durable, construction wise, whereas a ceramic burr is at the risk of cracking. A stray twig or stone that accidentally ended up with the coffee beans could easily crack a ceramic burr.
Quality
The quality of a manual coffee grinder comes down to the quality of materials used in its construction and the brand that manufactured it.
Manual coffee grinders that are made from stainless steel are usually of an extremely high quality. A good way to ensure you're purchasing a quality product, even when buying from a reputable brand, is to check out the customer reviews.
Longevity
Nobody wants to buy something that will need replacing in a couple of months, regardless of the cost. Ensure that the parts of the manual coffee grinder you pick can be easily replaced as they wear out over time.
A few of the manufacturers found on this list offer lifetime warranties, 100% money back guarantees and great customer support—all in the name of longevity.
Convenience
A great manual grinder consists of more than just the ability to manually grind coffee. The aspect of convenience is one that should never be forgotten.
You should opt for a hand coffee grinder that is:
easy to use
easy to clean
easy to maintain
easy to store
easy to transport
Price
One of the reasons why manual coffee grinders are so popular is because they're inexpensive to buy, use and maintain. A manual coffee grinder costs significantly less than an electric grinder does. The price of a hand coffee grinder varies according to the brand, materials used, and features included. Some of the options found on this list cost under $20, while others exceed the $100 mark.
In saying that, we don't recommend that you identify the cheapest option available and buy it immediately. Rather shop around, compare features and make sure that even though you won't be spending a fortune, it will be money well spent.
Frequently Asked Questions
Is freshly ground coffee better?
Yes, freshly ground coffee is far better than pre-ground coffee. This is mainly because freshly ground coffee is, well, FRESH, whereas pre-ground coffee can often be stale.
Plus, when you grind coffee yourself you have greater control over the grind size. This can affect the overall quality of your cup of coffee. In short, fresh is always best.
What are the benefits of a hand coffee grinder?
There are many benefits of using hand coffee grinders. For starters, you don't need to tolerate the noise that is associated with electric grinders.
Because they aren't electric, hand grinders don't affect your energy or power consumption and make next to no noise. And finally, they are portable, easy to use, even easier to clean and allow you to get the most out of your coffee beans.
Are manual coffee grinders any good?
Yes, manual coffee grinders are valuable products. They are cost-effective pieces of equipment ideal for grinding coffee at home, at work on the go or in electricity-free locations such as camp sites.
Not only does a manual grinder effectively grind coffee but there are also many benefits that come with opting for manual over electric. Being portable is only one of them.
How long does it take to hand grind coffee?
The time it takes to hand grind coffee varies from product to product & brand to brand. It's largely dependent on the manual grinder you use and the grind size you're aiming for.
Generally speaking, hand grinding coffee usually takes 30 to 55 seconds and should not take you more than a minute.
Wrapping Up Our Hand Grinder Review
Whether you need a manual coffee grinder to add to your camping supplies, take along with you on your morning commute or call your kitchen counter 'home'—there really is an option for everybody.
When you're grinding your own beans at home and trying to figure out the best option, you'll probably spend time look at an electric burr grinder and will want to review other automatic products and read the rating of each of those units. You might also want to consider which coffee machine works the best for you.
Now that you know exactly what to look for in a manual coffee grinder—and have fifteen fantastic options to select from—you're one step closer to having a brewtiful cup of hand ground coffee in hand.
Amazon's Best-Selling Hand Grinders