Gear
BUNN is the name people trust when they need an impressive coffee maker for home and commercial needs. In the course of time, it has built an amazing brand value and authenticity when it comes to the major market of coffee makers. So, things weren't easy as we expected when we moved forward to find out the best BUNN coffee maker in the market.
What we needed first was a shortlist of products, so that we can review these products thoroughly. We had made a shortlist of BUNN coffee makers, with around 25 products. After hands-on reviews and making a few cups of coffees, we have now come down to the best six BUNN coffee makers you can buy today. One thing you can find in all these coffee makers is the perfect-taste coffee.
After drinking more than a few cups of coffee, we do believe BUNN MCU Single Cup Multi-Use Home Coffee Brewer is the best BUNN coffee maker to get. It's pretty versatile and performance-friendly but you may need a semi-premium budget to get it.
If you need a budget-friendly alternative with fastest coffee-brewing, we'd recommend going for BUNN NHS Velocity Brew 10-Cup Home Coffee Brewer. It combines standard capacity and extra-smooth brewing time, making it suitable for both home and commercial needs.
Best BUNN Coffee Maker
We have done an extensive research on 50+ BUNN coffee makers available in the market and here are our best BUNN coffee makers for you.
If you are looking for a truly versatile coffee maker, we would recommend this product — without the slightest doubt. Most customers love BUNN MCU Single Cup Multi-Use Home Coffee Brewer for its performance and the use of great technology.
You can create your favourite coffee via different methods in this device. For instance, you can use ground coffee, coffee pods, tea bags and K-Cups. We received the corresponding drawers for each of these methods and using them was an easy task.
Coming to the brewing experience, this coffee maker has a brewing time of less than one minute. Depending on your requirement, you can have 4oz to 14oz of coffee in the single brewing session. We also tried its Pulse Brew feature, which gives you a bolder cup of coffee.
One thing to be noted in BUNN MCU Single Cup Multi-Use Home Coffee Brewer is that it comes with internal water tank. The 14oz water in the tank acts as a standby, always available for coffee-making. The result is, we were able to brew the desired coffee in the least possible time.
Who is it for: We love to recommend BUNN MCU Single Cup Multi-Use Home Coffee Brewer for everyone who loves versatility of selection. It combines awesome performance and features, along with the option to brew almost all types of coffee.
This will be our unanimous selection when you need higher capacity and best performance — available at an affordable pricing. In the shortest time, you can brew a full cup of coffee, making the device suitable for big homes as well as organizations.
Just like other BUNN machines, BUNN NHS Velocity Brew 10-Cup Home Coffee Brewer is also noted for quick brewing, thanks to the internal water tank. You can brew up to 10 Cups of coffee in around 3 minutes. When you have a lot of guests at your home, this is the best way to get enough coffee.
It's basically a drip coffee maker, offering the perfect blend of water and your ground coffee. Moreover, it's coming with a Multi-Stream Spray head for the even distribution of water on ground coffee. We understood its effect by the non-bitter taste of brewed coffee we received in the end.
You cannot have many customization features in this BUNN coffee maker, but there's a Vacation Switch for turning off the always-hot-water feature. It's a great way to save energy. Another thing we loved is that its carafe is drip-free.
Who Is it for: BUNN NHS Velocity Brew 10-Cup Home Coffee Brewer is optimal for those who need a lot of coffee in the shortest period. Thanks to the internal water-tank and multi-stream spray head, we didn't find any bitter taste in the coffees we had brewed.
Here comes our recommendation for those who have the minimum budget. It's a popular BUNN coffee maker that combines great capacity and speed. As you can guess from the name, you can brew up to 10 Cups in a single brew.
Sale
Just like the above-mentioned product, this too takes just three minutes to complete the brewing process. It does not matter whether you're brewing 30oz or 45oz, you get the job done in 3 minutes. This is a suitable choice for homes with many coffee-addicts.
BUNN BXB Velocity Brew 10-Cup Home Coffee Brewer has all the standard features you'd find in one of the best BUNN coffee makers — such as the internal water tank and its uniquely-designed spray head. That was one of the reasons why we had got the perfect coffee at the end of the day.
You can also spot the drip-free Glass Carafe and Vacation Switch with this drip coffee maker from BUNN. At the least, you don't have to worry about usability or other stuff. This one is pretty easy to use for almost all homes and even some commercial spaces.
Who Is it for: BUNN BXB Velocity Brew 10-Cup Home Coffee Brewer is suggested for those who need higher capacity of coffee in a single brew. We'd say it will work fine in a big home or a small office, due to the 50oz brewing capacity at max.
Some people love to have their coffee in hot temperature even after a few hours of brewing. Thermal carafe is a way to acquire that. If you are one of them, we recommend this coffee maker, which is budget-friendly as well.
Resembling the abovementioned products, BUNN BT Velocity Brew 10-Cup Thermal Carafe Home Coffee Brewer can brew a maximum size of 10 Cups. While the brewing time has not been changed from 3 minutes, the coffee will be kept warm for another 2 hours.
We noted the extra perfection of taste and consistency in this machine, probably due to the 800-watt heater and the built-in thermostat. The result is, you can have consistent coffee with the ground coffee you use on every day.
Since there aren't any buttons or control panels, we found it very easy to use BUNN BT Velocity Brew 10-Cup Thermal Carafe Home Coffee Brewer. We must say the internal water-tank of 50oz is too good for almost all coffee-brewing purposes.
Who Is it for: We believe BUNN BT Velocity Brew 10-Cup Thermal Carafe Home Coffee Brewer makes sense for those who need to store their coffees for an hour or so, without losing the heat. It's good for individuals as well as home uses.
We would love to recommend this BUNN coffee maker who are ready to spend more for advanced features. It was one of the awesome coffee makers we had come across in the review, especially when giving primary importance to the great coffee taste.
Higher capacity and speed are one of the superb combinations in BUNN 13300.0001 VP17-1SS Pourover Coffee Brewer. In an hour, you can brew up to 14.4 litres of coffee. The performance has been optimized for home and commercial purposes — as it's clear.
The whole coffee maker system is built with Stainless Steel, adding a professional look and feel. Because it requires no plumbing, we didn't have trouble with the portability of this coffee maker. Of course, you have a bunch of BUNN-based features as well.
For instance, the internal water tank and power switches are loved by most customers of the product. It also manages to keep the brewing temperature optimal so that there's consistency. It does not have timing or programming features, though.
Who Is it for: We think BUNN 13300.0001 VP17-1SS Pourover Coffee Brewer is an excellent choice who love great coffee, in bigger quantities. If you are flexible with the price, this is the best BUNN coffee maker you'd ever buy.
With yet another expensive, commercial-grade coffee maker from BUNN, we come to the end of our list. This product also happens to be one of the most expensive coffee makers in the product.
It's something awesome that BUNN 33200.0015 VPR-2GD 12-Cup Pourover Commercial Coffee Brewer will brew up to 14.4 litres of coffee in a period of one hour. The all-stainless steel finish and the exterior look are just amazing for every coffee lover out there.
First of all, BUNN 33200.0015 VPR-2GD 12-Cup Pourover Commercial Coffee Brewer comes with upper and lower warmers. You also get two glass decanters with the package, which is good. Just like the previous one, though, you don't have to mess with plumbed to get the machine up and running.
Using this coffee maker is an easy task, because it's just about pouring the amount of water. Its switches are available for the two heating elements only. It may take a few days to get accustomed to this coffee brewer. Once that's okay, you are going to have the greatest coffee taste.
Who Is it for: Considering all these, BUNN 33200.0015 VPR-2GD 12-Cup Pourover Commercial Coffee Brewer is an impressive BUNN coffee maker for commercial purposes. It's too good to be used in office environments as well.
These are the six BUNN coffee makers we have hand-picked for your home and commercial purposes. As we said earlier, there are certain advantages of having a BUNN coffee maker instead of others. To give an adequate idea about these machines, we will have an introduction to Bunn coffee makers, followed by some buying-guide information sections.
An Introduction to BUNN Coffee Maker
To give you the basic idea, Bunn — actually, Bunn-o-Matic Corporation — is one of the most popular maker of coffee makers. So, coffee makers made by this manufacturer is known as Bunn coffee makers among the common public and coffee addicts. Of course, there are a few factors that make Bunn different from other manufacturers and products out there. The essential stuff is consistency, taste, and reliability when it comes to the case of great coffees.
As a company, BUNN manufacturers both home and commercial coffee maker machines. Don't be surprised if you find a Bunn machine in most of American homes and restaurants. Some people are interested in using the same for offices and all. As a matter of fact, BUNN machines are able to make a huge amount of coffee even when it consumes less amount of time and effort from your side.
Of course, there are some common advantages that you get when you purchase a BUNN Coffee Maker — for your home or office.
Advantages of Using the BUNN Coffee Maker
Let's have a quick look at the noticeable benefits of having and using a BUNN coffee machine at your home or office. Either way, one thing is assured: taste.
When compared to other types of coffee makers, BUNN coffee makers brew the right amount of coffee in an extremely small amount of time. You can have up to 10 Cups of freshly-brewed coffee in just three minutes. This is due to the internal hot water tank system of the machine. That is, a particular amount of hot water is always kept inside the brewing machine. So, whenever you press the Brew button — or pour water —, the coffee-making process will start instantly. This is a great feature when you need a quick cup of coffee.
Because the coffee-brewing system is quick and instant, there will be no bitter taste in the whole coffee. It's going to be a life-saver for those who need the best coffee for their lives. It's a fact that you have to keep the machine running all the time, but the taste is something unparalleled. You are going to have almost the same coffee that you used to have in restaurants and all. We hope that's an advantage for everyone who is passionate about the daily, consistent-taste coffee.
This advantage depends on the BUNN coffee maker you are going to purchase. There are some BUNN coffee makers that let you use different ways to brew coffee. For instance, you will be able to use K-Cups, Coffee Pods, Tea/Coffee Bags and even your favorite ground coffee. All these are happening with the help of its removable drawers, which can be chosen according to your need. You can use the same devices for getting mere hot water, for your oatmeal or instant noodles.
We hope these advantages would compel almost everyone to have a look at a BUNN coffee machine. It was the same set of advantages that attracted us to BUNN coffee machines. We must say, the results were simply amazing and we have never left BUNN ever since.
Factors to Consider for Choosing the Best BUNN Coffee Makers
Because there are different BUNN products with varying features, the selection can be a problem at times. If you are in the same trouble, you can use the following considerations for choosing the best coffee maker for your purposes. Some of the considerations are common for all coffee makers, while others are BUNN-specific for reasons.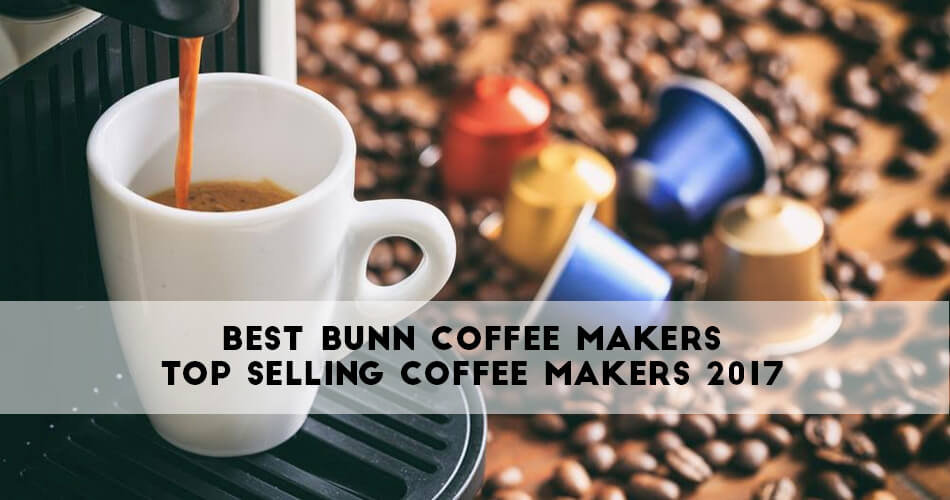 First of all, you should check the Brewing Capacity of the BUNN machine you are just to purchase. It is manufacturing single-serve, multi-serve and commercial level coffee makers. So, chances are, you may purchase the wrong one. Before making the purchase, you should understand how many coffees you need on a regular day — the number would be high if you are getting for an entire home, though. Then, depending on the company's claims and user-reviews, you can pick the right machine with the optimal brewing capacity.
Compatibility is a choice when we consider BUNN coffee machines. As we said earlier, you have a way to use Coffee Pods, K-Cups and Ground Coffee in some particular coffee makers. It's optional and will make sense only if you need that versatility in the taste and experience. That having said, you have a better option to stick onto the common drip-based coffee brewing. It does not matter which one you are going to use — make sure it works fine with your taste preferences and boldness of coffee.
Selecting the right Carafe is another point of selection, for sure. You can find different types of Carafe in different BUNN machines. The right selection should be made with respect to other features also. For instance, you may not need a Thermal Carafe if the machine has an internal heating element to keep the coffee hot. If the heating element is not present, you would better have to get the Thermal Carafe. This is, once again, a personal choice. Because, there are some people who don't like external heat to be applied to the coffee.
Last but not least, you should check out the Design and aesthetics of the machine if you are going to place it in your living area or the kitchen. If you want to shift places so often, go for a portable maker. In that case, you may have to compromise the brewing capacity and other features.
We have taken care of these aspects and mentioned them in our recommendations above.
Coffeemakers for Home and Work
Bunn coffee makers have products manufactured for either home or commercial uses. They come in a wide range of commercial coffee makers that can be used in busy offices to brew a pot in the break room or there are coffee makers made for restaurants with a heating element under the drip and on top of the coffee maker to keep a pot of coffee warm until it is needed.
There are several Bunn coffee makers for home use as well. Whether you need an entire pot for a houseful of people or just a model that allows you to use a K-cup, they have the coffee maker you need. They also have models that will perform several functions, allowing you to choose whether to make a small pot of your favorite blend or even brew a cup of tea for a visitor to your house.
Choosing a Coffee Maker for Pre-packaged Coffee
Coffee doesn't just come in whole beans or ground, they are also pre-packaged in pods or filter packs. Many coffee makers can only be used with one type of coffee packages. However, you can find a Bunn coffee maker that is versatile enough to use either a K-cup, ground coffee or coffee in a filter pack. That allows you to select different types of coffees to have on hand so you can either have a variety of flavors at your disposal or allo you to have a quicker, more convenient way to brew coffee quickly.
Where to Find Them
You will need to know which type of Bunn coffee maker you need before shopping for one. If you need commercial models, you will want to contact a restaurant supply store to find a more heavy duty coffee maker and many retail chains sell models for home use.
Wrapping Up
Now that we have seen our recommendations for the best BUNN coffee makers — followed by some general buying information —, we hope you are ready to make the purchase. There is a final advice that we have to give you. Just because you have some more money to spend, you don't have to get the commercial version of these machines. Get them only if you need such a huge performance and brewing capacity. After all, there is no point in making a lot of coffee if you don't drink them at a time. Moreover, heavy BUNN coffee makers are noted for higher power consumption as well. That is, in the end, consider the environment-friendliness and power consumption of these devices before checking out.
These are the best bunn coffee makers 2018
BUNN MCU Single Cup Multi-Use Home Coffee Brewer

BUNN NHS Velocity Brew 10-Cup Home Coffee Brewer

BUNN BXB Velocity Brew 10-Cup Home Coffee Brewer

BUNN BT Velocity Brew 10-Cup Thermal Carafe Home Coffee Brewer

BUNN 13300.0001 VP17-1SS Pourover Coffee Brewer

BUNN 33200.0015 VPR-2GD 12-Cup Pourover Commercial Coffee Brewer
Summary
Looking for the best bunn coffee makers around? Our coffee experts team have reviewed hundreds of models of bunn coffee makers based upon their usability, design, brewing control so that your decision of buying a bunn coffee maker would become easier.
Read these bunn coffee maker reviews and find your perfect bunn maker with ease now!