Gear
Drip coffee makers have embedded themselves into the popular culture of our mornings. Between remembering your parents making a pot of coffee while getting ready for work, to you now similarly hustling around in the morning, drip coffee makers are quite the consistent morning companions.
And though there are other popular choices that have arisen, including the pour-over and the french press, drip coffee makers have maintained their dominance in most American homes.
However, your choice of exactly what kind of machine you can buy has exploded in the last several years. Go look at the coffee machines in a grocery store and you will be overwhelmed with choices. You can find anything from small, simple drip machines to behemoths that can make any coffee or latte you could possibly think of. How do you pick which one is best? Maybe you have even grown to love the taste of alternative brewing methods like the french press. Are there drip-brewing options that can compare in flavor?
Well, worry not! We have gone through the trouble of compiling some of the best coffee makers for you! We'll give you the rundown of what makes them stand out from the crowded market of coffee machines, as well as their technical specs so you can be sure whether or not they will fit what you are looking for.
Our Top 3 Choices — The Best Coffee Makers
Mr. Coffee Coffee Maker with Auto Pause and Glass Carafe, 12 Cups, Black
Technivorm Moccamaster 59616 KBG Coffee Brewer, 40 oz, Polished Silver
Ninja Hot and Cold Brewed System, Auto-iQ Tea and Coffee Maker with 6 Brew...
Best of the Best Coffee Maker



Simple to operate, easy to clean and very affordable
Even saturation means consistently great tasting coffee
A huge variety of options for how you want your coffee or tea to be made
Mr. Coffee Coffee Maker with Auto Pause and Glass Carafe, 12 Cups, Black

Simple to operate, easy to clean and very affordable
Technivorm Moccamaster 59616 KBG Coffee Brewer, 40 oz, Polished Silver
Best of the Best Coffee Maker

Even saturation means consistently great tasting coffee
Ninja Hot and Cold Brewed System, Auto-iQ Tea and Coffee Maker with 6 Brew...

A huge variety of options for how you want your coffee or tea to be made
Of course, not all of us want or are able to spend several hundred dollars on a drip coffee brewer. For a coffee machine that easily fits into most budgets, the Mr. Coffee 12-Cup Coffee Maker is a solid choice. While this model is certainly more simple when compared to our first two choices, it has a few great functions that make a solid impact on your morning routine. It has the "Grab a Cup" auto-pause function, which lets you grab a cup of coffee in the middle of the brewing cycle without risking a mess. Keeping in line with keeping things tidy, the water reservoir shows how much water is present so you do not overfill.
It fits any kitchen size well, already being relatively compact, it is designed with easy cord storage for easy packing. The top lid lifts to expose the paper filter and grounds, which aid in cleaning a great deal. What Mr. Coffee provides is a simple, mess-free brewing process that is less than $40, easily making it our best budget coffee maker.
You simply cannot beat the flavor or the convenience that the Technivorm Moccamaster provides. The key to it producing the best flavor from a drip machine comes from its 9-hole outlet arm. Instead of dripping water from a single source, the water is evenly distributed over the coffee, which helps give an even extraction of the grounds. This translates to smooth, flavorful cups of coffee that are head and shoulders above the competition.
But what makes it the best is not just the quality of flavor it provides. It's convenience, too! The cool water tank can get a 40 oz pot brewed in about 5 minutes. If you want to pour a cup of joe while it is still brewing, removing the carafe will automatically shut off the brewing process so you do not make a mess. Once the brewing process is finished, the heating plate offers two heating settings for keeping your pot warm and will automatically shut off after 100 minutes so you don't burn your house down. If it is in your budget, our testing has shown that this is simply the best coffee maker of 2019.
Want the best bang for your buck? The Ninja Hot and Cold Brew System offers the best variety of functions has the ability to make nearly any kind of brewed drink you can think of. It can be programmed to brew hot coffee, hot tea, accelerated cold brew coffee, coffee brewed over ice, and iced tea. It even comes with a milk frother so you can give your specialty drinks an authentic barista touch.
While the highlight is on the sheer amount of functions the Ninja system offers, it does a great job giving you a great taste and experience. There are separate coffee and tea baskets to those respective flavors from mixing over time. The Ninja system can also be programmed to accommodate as small as a single cup of coffee to brewing a whole carafe and numerous cups of coffee in between. You simply will not find a better value in terms of how much functionality the Ninja Hot and Cold Brew System provides.
Sale
16 Best Drip Coffee Makers
While those three are some of our favorites, they are by no means the only option for a drip coffee maker. Depending on what specifically you want out of a coffee maker (as well as your budget), you might have your own "best" drip coffee maker. Below, you will find a compilation of 16 drip coffee makers that we think are the best you will find on the market, and perhaps one will become your new favorite!
We'll start with our favorite value coffee maker! The Ninja Hot and Cold Brew System excels in the sheer volume of options that it provides to the coffee drinker. You can make a traditional brew of coffee or tea, you can make cold brew coffee, over-ice coffee, and iced tea. The system comes with a frother that can be used with hot or cold milk. If you like to drink a variety of different coffee beverages, it will be hard to find a better option than the Ninja Hot and Cold Brew System.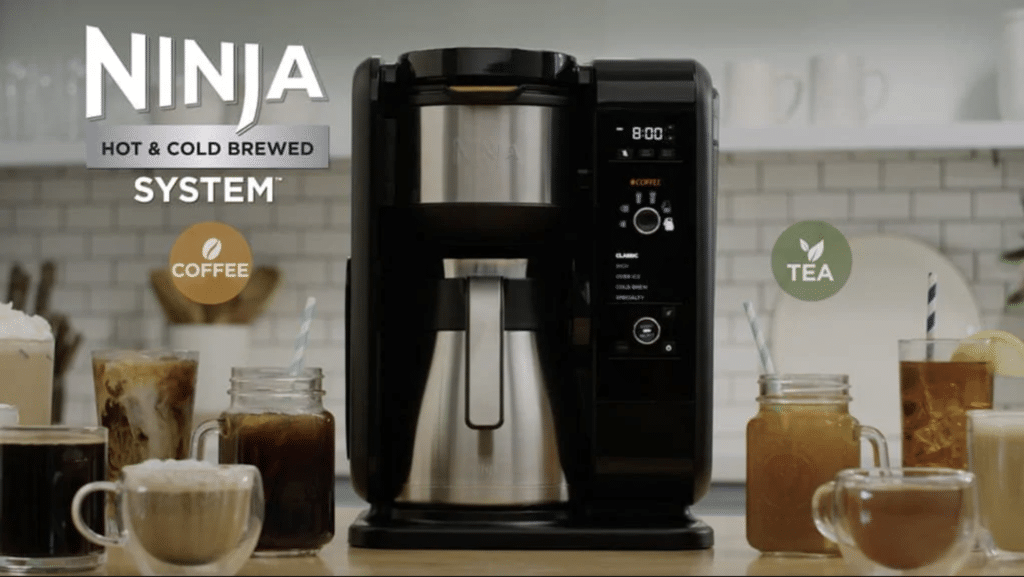 Features
This list could be huge. We've filtered it down to its marquee characteristics that have built quite the customer following:
Individual Coffee and Tea Baskets – This keeps your coffee or tea flavors pure.
6 Brewing Sizes – The Ninja system can brew for a cup of coffee, an entire carafe, as well as several choices in the middle.
Classic/Rich Brewing Options – Try your coffee at a traditional strength or a richer brew for a fuller flavor.
Over-Ice Brewing – This brews hot coffee or tea over ice and at twice the normal brewing concentration to give a coffee shop-style iced coffee or tea.
10-Minute Cold Brew – Get the sweet taste of cold brew without having to wait for 8-10 hours for it to brew!
Specifications
Capacity – 50 ounces
Materials – plastic and stainless steel
Dimensions – 11.8 x 10 x 15 inches
Weight – 11.73 pounds
MSRP – $229
The Breville Precision Brewer is a popular choice for those that make their coffee flavor a priority in their morning routine. It can automatically adjust the temperature and brew time to match the Specialty Coffee Association's (SCA) recommended qualities for the ideal cup. This machine is geared towards tweaking the flavor to exactly your preference. If you consider yourself a coffee snob, this machine definitely has you in mind!

Features
This machine allows you to hone the flavor of the coffee, bringing up more subtle notes than what other traditional brewers might offer.
My Brew Settings – You can set customizations to the bloom time, water flow rate, and brew temperature. This is great if you have different kinds of coffee that produce the ideal flavor in varying conditions.
Dual Filter Baskets – It comes with both flat-bottom and cone filters, allowing you to brew with your favorite.
Auto Steep and Release – You can adjust how long the grounds stay in contact with the heated water, allowing for stronger or weaker brews.
Gold Cup Standard – This preset option follows the SCA's guidelines in brewing the ideal cup of coffee.
Specifications
Capacity – 60 ounces
Materials – stainless steel
Dimensions – 12.4 x 6.7 x 15.7 inches
Weight – 3.15 pounds
MSRP – $299.95
Time to take a closer look at our overall favorite coffee machine. The process begins with the Moccamaster's copper element heating the water (no pumps required). From there, water is released through the 9-hole outlet arm, which allows for even saturation of water across the ground coffee. Even saturation means that the coffee can be properly extracted, allowing the Moccamaster to deliver its signature flavor that coffee professionals across the country have come to know and love.
Features
9 Hole Outlet Arm – The key to the consistently good flavor. Even extraction means the best possible flavor from your favorite coffees.
Automatic Brew Basket – This allows you to remove the carafe and pour a cup of coffee during the brewing process. It will automatically pause the flow of water.
Cool Water Reservoir – Pour cool water into the reservoir and get a pot of coffee within 6 minutes.
Automatic Power Switch – The power switch will turn itself off after 100 minutes.
Hot Plate – the hot plate can be set at two temperatures, keeping your coffee warm without scorching it.
Specifications
Capacity – 40 ounces
Materials – aluminum
Dimensions – 6.5 x 12.8 x 14 inches
Weight – 6.26 pounds
MSRP – $309
Many coffee drinkers love the idea of having the premium feel and functions that we have mentioned but are simply priced out of being able to own a device that has them. The Redline MK1 makes its mark by being a budget version of premium coffee brewers. With customizable options that allow for coffee blooming to take place and variable temperature options, Redline has made a machine that feels like a high-end model but feels like a budget machine on your wallet.
Features
Pre-Infusion Setting – This allows the coffee to "bloom," which helps bring out more subtle flavor notes.
Parking Brake – Allows brewing to be paused and adjusted to make sure you get the exact flavor you are looking for.
Auto-Shut Off – The automatic shut off can be set between 40 and 120 minutes.
Hot Plate – This will help keep your coffee warm in between cups.
Insulated Funnel – Helps distribute the coffee into your pot evenly, helping taste stay consistent.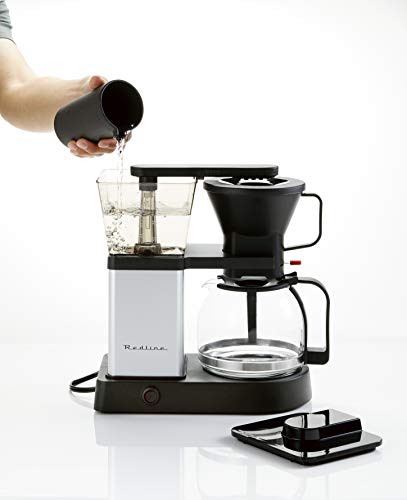 Specifications
Capacity – 40 ounces
Materials – aluminum/plastic with boron glass carafe
Dimensions – 14.6 x 13.7 x 7.8 inches
Weight – 7.14 pounds
MSRP – $109
This Zojirushi Machine is simply a solid choice for your home. It has several detachable parts (including the water tank), making it very easy to clean. Like some of the other brewers on this list, you have the option for a pre-infusion cycle, which will allow the coffee to bloom for a more full flavor. You can brew your coffee hot or over ice using the built-in presets, and you can program it to automatically begin brewing coffee for you in the morning!
Features
Vacuum Sealed Carafe – This can help keep your coffee at the best temperature for hours without the scorching that heating plates sometimes cause
Pre-Infusion Cycle – Helps the coffee bloom, allow subtle flavor notes to be noticed
Removable Water Reservoir – The entire tank can be removed for easy cleaning
Swing Filter Basket – The basket swings out and away from the machine, making cleaning an easy process
Special Feature for Brewing Iced Coffee – It automatically doubles the coffee concentration to make great tasting iced coffee
24 Programmable Schedule – Can be scheduled to begin brewing coffee at any time.
Specifications
Capacity – 50 ounces
Materials – stainless steel
Dimensions – 10.8 x 12.5 x 16.8 inches
Weight – 9 pounds
The Bunn CSB3T specializes in getting you a full pot as quickly as possible. You can brew an entire 50-ounce pot in 4 minutes, which is anywhere between a few minutes faster than other high-end models, to upwards of half the time of other coffee brewers. Its small body makes it a great companion for small kitchens, too!
Features
Water Sprayhead – The water spray head helps to evenly saturate the coffee, making a more flavorful cup
Fast Brewing – You can get an entire 50-ounce pot of coffee in 4 minutes!
Stainless Steel Thermal Carafe – The steel carafe does a great job keeping your coffee at a great temperature for several hours after brewing.
3-Year Warranty – Finally, it sports a great warranty that is serviced right here in the USA
Specifications
Capacity – 50 ounces
Materials – stainless steel and plastic
Dimensions -13.9 x 8.3 x 14.9 inches
Weight – 9.65 pounds
MSRP – $149.99
KitchenAid has a reputation for making high-quality kitchen appliances, and this device is definitely no exception. It sports a 29-hole spiral head for even, thorough extraction, and is designed thoughtfully to be easy to use, easy to place in a kitchen, and easy to maintain. At a price that is below $100, this coffee maker is certainly worth a look if you want one that is easy on the budget.
Features
Brew Strength Selector – You can choose between normal or bold brewing choices
Shower Head Extractor – As mentioned, its shower head allows for even extraction for a fantastic flavor.
24 Hour Programmability – This coffee pot can be set to start brewing at any time of day you need it to.
Pause and Pour – Allows you to pause the brewing process and fill your mug so you do not have to wait for the entire pot to be brewed.
2 Brew Buttons – A unique feature, there are brew buttons on the side and front of this coffee maker so you can set the machine with the side facing from the wall or the front.
Specifications
Capacity – 60 ounces
Materials – plastic with glass carafe
Dimensions -13.4 x 14.3 x 7.2 inches
Weight – 11 pounds
MSRP – $89.99
Technivorm makes it to our list again with another version of the highly-touted Moccamaster, this time with the KBT model. It has the same water saturation design, water filter shape, and cool water reservoir as the KBG (our #1 rated coffee brewer). There is a stainless steel carafe, as opposed to a glass one. It also has a drip-stop so the carafe can be removed during brewing, but it is a manual switch (unlike the other Moccamaster's automatic brew basket). However, with some extra functions lost, you also get a little more palatable price tag.
Features
Manual Drip-Shut Off – This allows the carafe to be removed during brewing without a mess.
Thermal Carafe – Keeps your coffee warm up to an hour after brewing
Quick Brewing – It can brew an entire pot in between 4-6 minutes
Cold Water Reservoir – Even starting with cold water will still quickly get coffee brewed in the advertised time
Specifications
Capacity – 40 ounces
Materials – aluminum
Dimensions – 6.8 x 11.5 x 15.2 inches
Weight – 9.3 pounds
MSRP – $309
Time to take a closer look at our favorite budget brewer! This machine is a simple, easy to use device that still manages to have a couple of solid functions to make the best of the brewing process. It can pause the brewing process so you can get a cup of coffee before the entire process is complete, and the filter is easily removed for easy quick cleaning. This Mr. Coffee unit can be stored easily with built-in compartments for the cords, too! There aren't many functions to boast about besides those, but at manufacturer's recommended price point of less than $30, it's hard to be too critical.
Features
Brewing Auto-Pause – This will halt the brewing process so you can fill your cup
Transparent Water Window – You will not have to worry about accidental overflows since you can clearly see how much water is in the reservoir.
Lift and Clean Filter Basket – The filter is easily removed and cleaned.
Specifications
Capacity – 60 ounces
Materials – plastic with glass carafe
Dimensions – 15 x 13 x 10 inches
Weight – 4.4 pounds
Hamilton Beach 2-Way Brewer Coffee Maker
Hamilton Beach has a boat-load of appliances on the market, so it should come as no surprise that they also feature a coffee maker. However, to set itself apart, you can brew both into the include glass carafe or into a single-serve mug without having to change the programming or swap physical adapters. It also has a handful of other useful functions that make it quite a value for a coffee maker under $100.
Features
Two Way Brewing – With a simple flip of the switch, you can go between brewing an entire pot or just a single mug.
Coffee Pod Compatible – If using the single-serve side of the machine, coffee pods can be used.
Programmable Brewing – Set the machine to brew exactly when you need it to!
Accommodates Travel Mugs – Most sized travel mugs will fit in the single-serve side of the machine.
Two Brewing Strengths – Choose from regular strength and bold.
Specifications
Capacity – 60 ounces
Materials – stainless steel with glass carafe
Dimensions – 13.7 x 11.4 x 15.4 inches
Weight – 4 pounds
The Calphalon Special Brew Coffee Maker makes its brew special by giving you a truck-load of functions to make getting the exact taste you want possible. You can adjust the brew strength and brewing temperature, and you can set the delay brew feature so it will start brewing when it is most convenient for you. This all comes together at a very reasonable price point, too.
Features
Adjustable Brewing Strength – Get the strength of flavor just like you want it
Adjustable Brewing Temperature – Different coffees taste better at different temperatures. This can help you enjoy a broader range!
Fresh Brew Timer – Tells you the last time coffee was brewed so you don't disappoint yourself with a stale, cold cup of day-old coffee
Delay Brew Function – Have your coffee brewed when it's most convenient for you.
Premium Boiling – The water is able to get very hot, extracting more flavor than other comparable brewers.
Specifications
Capacity – 50 ounces
Materials – metal construction with glass carafe
Dimensions – 15.8 x 8.7 x 16.1 inches
Weight – 10.8 pounds
This is another budget-friendly option that offers a bit more functionality than the Mr. Coffee brewer on this list might. You can adjust the brew strength to fit your tastes, and it allows for programming up to 24 hours in advance. You can have your coffee ready and waiting for you in the morning! You can also brew as few as a single cup or up to 14 cups in a single pot. For more details, check out our full review of the DCC-3200.
Features
Adjustable Brew Strength – Get your coffee just the way you like it!
Programmable Brewing – Set the machine to brew at any time in the next 24 hours.
Adjustable Brew Amount – Can brew between one and 14 cups in a single session.
Self-Cleaning – Set the self-cleaning mode and the coffee machine will take care a lot of its own cleaning maintenance
Built-in Water Filter and Permanent Filter – Makes brewing coffee easy and removes impurities that may impede flavor.
Sale
A solid, simple, and easy to use brewer is what you get with the Capresso. It brews relatively quickly (10 cups in less than 8 minutes), and offers programmable brewing. With the included thermal carafe, it makes it easy to have your coffee brewed early and still hold its heat. The carafe is also coated with stainless steel on the inside, which reduces the need to descale the carafe overtime. Also to help with scaling, it includes a built-in water filter to keep the water that touches your coffee as pure as possible.
Features
Permanent Filter – No paper filters needed, and it is dishwasher safe
Programmable Brewing – Set machine to brew as far as 24 hours in advance.
Water Filter – Keeps the water that brews your coffee pure and tasteless.
This Cuisinart brewer is going to offer some similar functions as our Hamilton Beach brewer on this list. It offers two kinds of brewing: either brewing an entire pot or brewing an individual cup. Either side can be selected with the simple turn of a knob. The single-serve side is compatible with coffee pods but includes a refillable pod so you can use your own ground beans. The front-facing control panel offers a suite of useful options, including programmable brewing and temperature control.
Features
Two Ways to Brew – Choose either the full pot option or the single-serve option
Control Panel – You can control brewing temperature, brewing strength, and set programmed brewing here.
Brew Pause – Allows you to pour a cup before the entire brew cycle is complete
Removable Water Reservoir and Drip Tray – Makes cleaning much easier
Brew Express BEC-110BS
The Brew Express offers some functionality you don't usually see in brewers. Namely, the ability to directly connect to your waterline for its water needs. Once connected, it will automatically keep itself filled (so you do not have to refill the water reservoir), and it will always have water ready for brewing (so no waiting for water to heat up when you are ready to make coffee). Once you get it hooked up to a waterline, it is one of the most reliable brewers on the market.
Features
Autofill – No more having to hassle with filling up the water reservoir.
Auto-Heat – No more waiting for water to reach brewing temperature.
Brewing Size Options – You can brew a single cup, a half carafe, or a whole pot.
Programmable Brewing – Have your coffee ready any time of day you want it!
Brew Auto-Pause – Automatically detects when the carafe has been removed, pausing the brewing process.
For the last brewer on our list, OXO brings a product that also offers a unique feature among other machines on our list. It uses a microprocessor to mimic the process of a pour-over (which includes water saturation, pausing, more, pausing, and gradually increasing water overtime). It is one of the best ways to get as close to a pour-over taste with a brewer! It also sports adjustable brewing amounts and programmable brewing.
Features
Pour-Over Mimic – OXO gets as close as you can to a pour-over without manually doing it yourself.
Programmable Brewing – Set the machine to brew when you wake up or when you get home.
Precision Water Temperature – Water is consistently held at the best temperature for coffee (between 197.6 and 204.8 F).
Brewing Volume Options – Brew as little or as much as you would like.
Sale
How Do Automatic Drip Brewers Work?
Automatic drip brewers are surprisingly simple machines. Though the exact process may vary from machine to machine, there is a standard process that does a good job reflecting what happens on the inside.
First, the water in the reservoir is heated by a built-in heating element. As water is brought to a boil, it is forced through a tube that travels upwards. The heated water passes through a one-way valve (so it doesn't fall back into the reservoir), and into the shower head.
The shower head is the part of the machine that will disperse water on the grounds. Some shower heads have several holes that help disperse water, while others simply allow steam to gather and drop to the coffee below.
Once the water hits the coffee, the brewing process begins. As more and more water filters onto the grounds, it begins to force its way through the paper or permanent filter that is present in the machine. It drops to the carafe below, and you have brewed coffee!
What Makes a Great Coffee Maker?
Keep in mind that the best coffee maker will be the one that best fits what you want out of your brewing experience. If you have your heart set on iced-coffee, then even the machine we've labeled the best will let you down (as brewing iced coffee is not a built-in feature). However, there are some key characteristics to consider when looking for your perfect brewer:
Carafe Capacity
How much coffee do you want to brew at a time? A brewer's capacity varies from model to model, so be sure the one you choose brews enough at a time to meet your needs. It might be a bit of a bad situation if you plan on hosting a brunch and you can only brew a couple of cups of coffee at a time!
Size
How much space do you have to dedicate to a machine? Some machines may look amazing, but if you don't have space for an entire coffee bar, then looking for a more compact machine will be your best option.
Hot Plate vs Thermal Carafe
This is a matter of preference. Do you prefer glass carafes that are kept warm by a heating plate connected to the machine? Do you like to drink your coffee for extended periods and want to avoid the possibility of a heating plate scorching it? Consider what kind of coffee experience you want to have before you become too invested in a model.
SCAA Certifications
Certification through the Specialty Coffee Association means a brewer has met the standards for what industry experts agree will brew the ideal cup of coffee (or the Gold Cup Standard). These standards include water temperature, brewing strength, and a long list of precise requirements. Generally, having this certification will mean that your machine will consistently brew incredible cups of coffee. Keep in mind that if your particular device is not SCAA certified, it does not mean that it will make a bad cup of coffee.
Programmable Features
Do you want to get your brewer ready the night before the morning rush? Many brewers do not offer programmable options like scheduled brewing, nor do they offer pre-set programs for alternative beverages, like iced-coffee or tea. Decide what programmable functions you can't live without before diving into a machine!
Water Filter
Not all brewers have a built-in water filter. In fact, just a handful on our list did. If you are able to provide your own filtered water, then this feature may not be a priority for you. However, if you want to prevent scaling and more frequent cleanings, some kind of water filtration is ideal.
Mid-Brew Pause
If you like to sneak in a cup as soon as enough is ready to pour, then the option for a mid-brew pause should be on your list of wants. Most brewers on our list had some form of a brewing pause, but they were either manually activated (which can cause messes if you forget to hit it) or automatic. Decide which kind of mid-brew pause, if any, you think you may want in your ideal machine.
Auto Shut-off
Most coffee machines with heating plates will offer some form of an auto-shutoff feature for safety reasons. However, not all brewers do, and if you are the kind of person that regularly forgets to turn the pot off in the morning, then an auto-shutoff feature is probably going to be a necessity for you.
Filter Type
There are brewers that allow only paper filters, allow either paper or permanent filters, or only allow permanent filters. If you have a preference, that will narrow down the kind of machine you end up with. Permanent filters are nice since they reduce the cost of buying paper filters, but they require cleaning and, over time, can start to collect oils and build up. You may not even know what filter you want after you have done some testing, so it may not hurt to get an option that supports both kinds of filters.
Warranty
If you are investing in a several-hundred dollar machine, you should do your due diligence and check out the kind of warranty that is offered. For example, the Moccamaster, while having an expensive upfront price, has a 5-year warranty, which is much longer than most manufacturers. If you want the peace of mind knowing that, after dropping significant money on a machine, that you are protected from defects (and sometimes even damage), then make sure what you are interested in offers the kind of warranty you need.
How to Keep Your Coffee Maker in Great Condition
Make sure to follow these easy steps to keep your machine in the best possible working condition:
Use Filtered Water
You should ALWAYS use filtered water when brewing. Some machines will have built-in filters. If yours doesn't, you need to invest in a filter of your own. Using hard or soft water will cause calcification in your machine which can clog or damage internal components. Filtered water will help reduce the need to clean and the likelihood of normal brewing operation being interrupted.
Brew Using Fresh Beans
Drip-coffee makers are already at a disadvantage when it comes to flavored compared to processes like a pour-over and a french press. Getting fresh beans is vital to make sure that you enjoy the flavor! Local roasters are an ideal place to get high-quality beans. However, if none are available, whole beans are always preferable to ground coffee at a grocery store. Coffee tends to lose its flavor quickly and grinding them long before you intend to use them only expedites that loss of flavor. This is especially important if you like to drink your coffee black with no added flavors.
Find the Right Grind
Coffee for machines will be ground a bit differently when compared to other brewing methods like a french press. Beans that are ground too fine can cause an overflow and hurt performance, while beans ground too course will not provide any flavor. In general, machines that use permanent filters or flat-bottom filters work best with medium grinds, and cone filters work best with a bit finer grind (their shape allows you to extract more flavor from the coffee). You will probably need to go through some testing to find the ideal grind, but taking the time to do it will greatly improve your experience.
Clean Your Machine Regularly
It is highly recommended that you regularly clean your machine. This is one of the most common causes of machines to have performance issues or to have tastes that are bad. Running through CLR cleaner through a normal brewing process will knock out a lot of the buildup that may be present in the internal components. Some machines even have a built-in cleaning process and will tell you when it needs to be done. If you have this kind of brewer, listen when it tells you it's time to clean!
Wrapping Up Our Drip Coffee Maker Review
As with any compilation list on the internet, this one is by no means exhaustive. However, we do hope that it will serve as a launchpad to help you know what to look for in a high-quality brewer and will point you in the right direction with a few models that we have recommended. Thank you for reading and happy brewing!
16 Best Drip Coffee Makers - Reviews and Buyer's Guide

16 Best Drip Coffee Makers - Reviews

16 Best Drip Coffee Makers - Buyer's Guide

16 Best Drip Coffee

16 Best Drip Coffee Makers