If you have landed here, it means that you are pretty bored with your Mr. Coffee pot that has been in your kitchen for more than a decade. Maybe you don't want to spend so much of your hard-earned money at those fancy coffee shops. In either case, you are in luck!
The SharkNinja company is transforming the way we all brew caffeinated drinks in our homes. They have created a long list of coffee brewers. The list is so big that you might get confused about which one of these brewers is the best for you to use at your home.
But don't worry we have got you all sorted out. Our guide to the best Ninja coffee bar reviews will provide you all the information you are looking for that meets all your needs at home.
So read on to get some assistance in choosing the right coffee brewer from Ninja.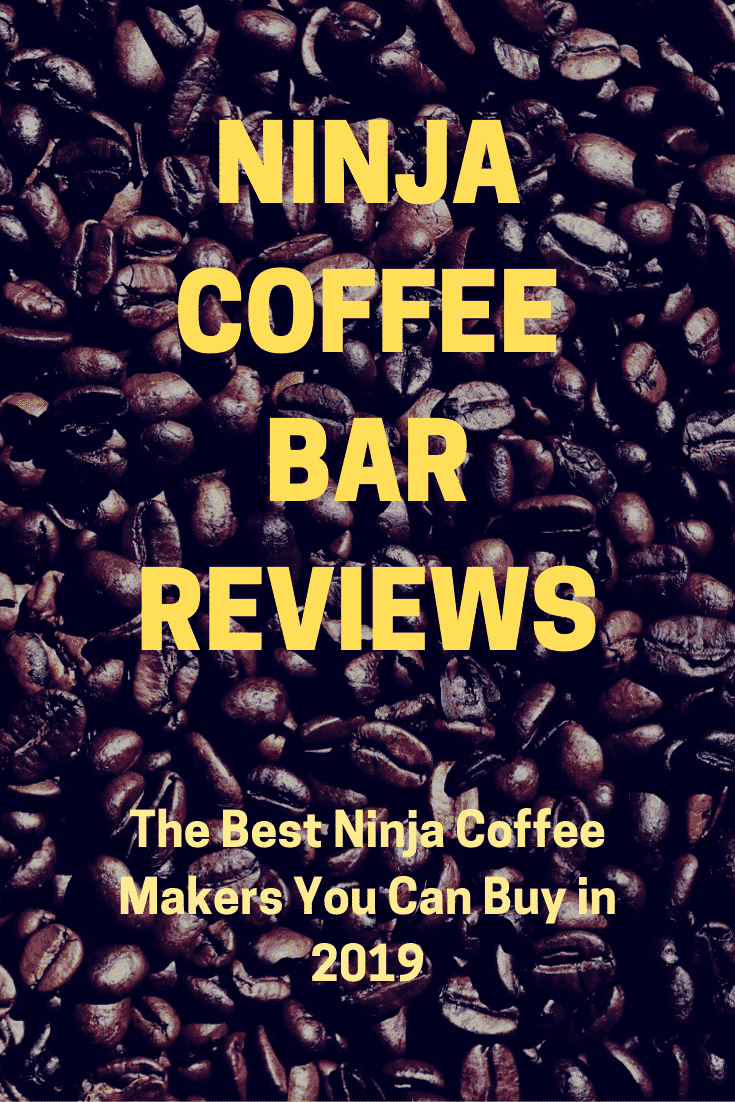 Our Top Choice – The Best Ninja Coffee Bar
The CP307 Auto-iQ Coffee & Tea Maker is the best Ninja coffee bar that you can find on the market. It has six different brew sizes and five different brew styles. The coffee bar is also equipped with a frother. You can use a coffee brew basket that boasts a thermal carafe.
This coffee bar offers a tremendous amount of value as it is equipped with numerous features and comes at a fairly decent price beating the competition by far. Its smart basket system can recognize the contents and displays various options for tea and coffee separately. Truly an extraordinary machine that will fresh you up every morning with a great cup of classic rich coffee!
Sale
Quick Summary
Ninja CP307 Hot and Cold Brewed System, Tea & Coffee Maker, with Auto-iQ, 6...
Ninja Specialty Fold-Away Frother (CM407) Coffee Maker, Single Serve to 10...
Ninja CM401 Specialty 10-Cup Coffee Maker, with 4 Brew Styles for Ground...
Ninja 12-Cup Programmable Coffee Maker with Classic and Rich Brews, 60 oz....




Ninja 12-Cup Programmable Coffee Maker with Classic and Rich Brews, 60 oz....

The Top Ninja Coffee Bars in 2022
The CP307 coffee brewer from Ninja features an automatic system that can detect whether it is tea or coffee in the basket. It will then display the options accordingly. It comes with five different brewing styles and six different brew sizes. The Ninja coffeemaker looks very stylish and will grace your countertop as well. You will just need 10 minutes to turn your water into a refreshing cup of tea or coffee. It is very easy to put coffee grounds in it and you don't have to go through a lot of hassle to clean or maintain it as well.
Features:
Heading our list of Ninja Coffee bar reviews is the CP307! It is by far one of the best coffeemakers that you can find on the market both in terms of price and features. There are different kinds of tea and coffee brewing settings that you can put to use very well. Its brewing technology has a host of options for you to explore.
You can enjoy the cold brew over the ice and low temperature for a natural sweet flavoring and smooth taste within 10 minutes. This Ninja coffee maker also features a smart recognition system for the basket and will provide you with different options whether you put the tea into it or coffee. There are separate baskets for tea and coffee. It means that you can either brew coffee or tea (bagged or loose) to keep all the flavors separate
It provides you with the option of choosing between six different brew sizes. Therefore, you can easily brew anything from a travel size or single cup to a full carafe in this coffeemaker. You can choose the strength of 5 different brewing styles according to your requirements. These include rich, over ice, classic, specialty and cold brew.
You can brew directly into your cup with the help of a coffee brewer. Apart from that you can also brew any brand of coffee grounds either bagged or loose with this Ninja coffee bar.
Specifications:
Capacity: 10 cups or 50 ounces (keeps the beverage hot for up to 1 hour) in the water reservoir
Materials: Plastic, metal, and rubber
Dimensions: 11.81-inch x 10.01-inch x 15.00-inch
Weight: 16.76 pounds
Cost (MSRP): $229.00
PROS
Very sleek design — will look great in your kitchen.
Simple and straightforward to use and maintain.
Six brewing sizes and fixed brewing sizes.
It boasts a smart recognition system in its basket and displays separate settings for coffee and tea
You can brew directly in your cup and can either use bagged loose tea and coffee
You can use a permanent filter
CONS
No pot warmer to keep the beverage warm
The thermal carafe is not sealed
Sale
Very close in features to the CP307, the CM407 focuses more on durability as compared to the versatility. This is your true coffeemaker but won't help you much when it comes to tea. You can brew your coffee in six different sizes and use the built-in coffee brew basket. It also comes at a slightly lower price than the CP307. But it is your typical coffee specialist from Ninja.
Features:
Number 2 in our list of Ninja Coffee Bar reviews is the CM407! Just like the CP307, the CM407 features a fold-away built-in frother for easy storage and convenience. It comes with a carafe that is made of highly durable stainless steel. The thermal carafe will keep your beverage warm for a full two hours.
You can brew extremely rich coffee and make high flavored lattes, cappuccinos, macchiato and a variety of other coffeehouse type beverages. This coffeemaker enables you to make iced coffee. Brew a fresh cup of coffee over the ice for an exceptional tasting coffee that doesn't have a washed-out flavor.
The CM407 allows you to brew in six different sizes. This means that you can easily brew anything from a travel cup to a full carafe using this coffeemaker. Now you can make coffee for your entire family due to the 10 cups capacity of the carafe.
This Ninja coffeemaker also features a frother that you can fold away when you are not using it. The coffeemaker is SCA (Specialty Coffee Association) certified which means that it provides you with the highest standard of coffee at home.
Specifications:
Capacity: 10 cups or 50 ounces (keeps the coffee hot for 2 hours) in the water reservoir
Materials: Plastic, stainless steel, and rubber
Dimensions: 12.00-inch x 8.80-inch x 15.00-inch
Weight: 12.35 pounds
Cost (MSRP from brand website): $200.00
PROS
Your true-blue coffee specialist can brew coffee for a variety of cappuccino, macchiato or latte recipes.
It also allows you to make iced coffee without any washed-out flavor.
There are six different brew sizes in which you can make your beverage.
Its frother folds away when not in use.
Option to use a permanent filter
The coffeemaker is certified from SCA.
CONS
It cannot brew teas, either bagged or loose
Carafe is not dishwasher safe
Sale
There is virtually no difference between the CM407 and the CM401 Ninja Coffee Brewers. The only thing that differentiates them is their carafe. The CM407 comes with a stainless steel carafe while the CM401 features a glass carafe. Glass will make your coffeemaker less durable but it will definitely keep your beverage warm for a longer period of time. Like the CM407, CM401 is also a true coffeemaker. You can make tea with it. Again, you can brew your coffee in six different sizes. However, it is more affordable as compared to the first two entries.
Features:
On 3rd spot in our list of best Ninja Coffee Bars is the CM401! It comes with a fold-away frother for convenience just like its stainless steel carafe counterpart, the CM407. The cafe here will keep your coffee warmer for a longer period of time (better than the previous 2 products, the CP307, and CM407).
This Ninja coffeemaker enables you to brew very rich coffee for various coffeehouse-style recipes. You can also make iced coffee without that excessively watered flavor. You can brew in six different sizes with the CM401. Therefore, just like the previous two coffeemakers, you can prepare a single cup or even a full carafe with this coffee brewer.
The carafe capacity of this brewer is also 10 cups just like the previous two coffeemakers. The folding design of frother allows you to fold it away when you are not using it. Last but not least, this machine is certified from SCA for a high quality tasting coffee at home.
Specifications:
Capacity: 10 cups or 50 ounces (keeps the coffee hot for 3 hours)
Materials: Plastic, glass, and rubber
Dimensions: 12.00-inch x 8.80-inch x 15.00-inch
Weight: 13.2 pounds
Cost (MSRP from brand website): $145.00
PROS
You can conveniently brew different recipes of coffee.
This brewer can make iced coffee too without the extra watery flavor.
This machine also allows you to make coffee in six different sizes.
The frother is foldable.
SCA certified machine.
CONS
It is not for brewing teas.
The glass carafe requires extra caution.
Sale
No review of these multi serve machines would be complete without the CE201. Best in terms of size and capacity, the CE201 is able to make 12 cups with the help of its thermal flavor extractor. But there is a catch … you can only make two different types of brews; rich and classic. You can easily make a single cup of coffee all the way up to a dozen cups at a time as well. You can choose different settings for the small batch of coffee as well according to your needs.
Features:
If you want to keep things simple and don't want to get carried away by an array of features then this is the Ninja coffeemaker for you. It comes with a thermal coffee brewer that can extract the flavors to provide you with a perfect cup each time you need it.
This machine keeps things simple for you where you can brew two different types of coffee. There are not many brew methods for you to explore but you will get the flavor that you need each time you brew a rich or a classic coffee.
This Ninja coffee bar has a warming plate that you can adjust. Guess what? You can pause your brewing in the middle as well. It will enable you to start working on your recipe when you need it. It enables you to enjoy a mid-brew cup and won't require you to cancel the entire pot.
Specifications:
Capacity: 12 cups or 60 ounces (keeps the beverage hot for more than 4 hours)
Materials: Plastic, metal, and rubber
Dimensions: 8.74-inch x 9.94-inch x 14.61-inch
Weight: 6.48 pounds
Cost (MSRP from brand website): $79.004
PROS
This coffee bar Ninja comes with a capacity of 12 cups
The programmable function enables you to prepare mid-brews as well.
There is a water reservoir that you can remove easily.
You can make rich and classic brews with this coffeemaker.
The warming plate enables the machine to keep your coffee hot for a long period
CONS
You can make only two styles of brews.
The glass carafe needs a lot more care and caution
Older and Discontinued Ninja Coffee Bar Systems
The CF112 from Ninja has a pod-free design and you can make both iced as well as hot coffee with it. The machine is equipped with Auto-iQ one touch intelligence feature and a built-in milk frother. This coffeemaker allows you to brew coffee in six different styles.
Its brewing capacity is 22 ounces and you can make high-quality coffee on demand without any issues. The coffeemaker also features a warming plate for the glass carafe.
This coffee brewer has a dial for multi-serving and you can easily choose the size of the cup. It also features Ninja's signature feature of Thermal Flavor Extractor that enables you to get richness in flavor and prepare different brews. These include classic, over the ice, rich, and specialty.
The Auto-iQ touch intelligence feature of this machine only uses the right amount of water required in the recipe according to the size and type of the brew, and the unit features a multi serve dial that lets you choose a size. The lid with stainless steel accent will keep your coffee warm for a couple of hours with ease.
With Ninja CF097 you can select any of the six brewing sizes that range from the single cup to full carafe. You just have to dial the flavor richness by selecting the brew type. You can easily use any branded coffee with this machine and customize the flavor according to your needs.
This coffeemaker has a capacity of ten cups and the thermal carafe keeps the beverage form for a couple of hours. The TFE technology or thermal flavor extraction blends the delivery of water while using automatically calibrated temperatures for a pre-infused coffee saturation.
There is only one difference between the CP307 and the CP301 models of Ninja Coffee Bars. The CP301 features a glass carafe while the CP307 has a stainless steel carafe. The rest of the features are all the same. With CP301 you can brew coffee in six different sizes and five different styles.
With this machine, you can also work with different types of teas either bagged or loose. The coffeemaker features Auto-iQ and a built in frother that you can fold away. The design of this machine is very simple and sleek just like CP307.
This coffee maker Ninja has the ability to make both iced and hot coffee. The brewer allows you to brew coffee in four different sizes. The programmable Auto-iQ feature is there as well and you can also put the frother to good use.
The capacity of the carafe of this coffeemaker is 43 ounces and you can choose a size with the help of its dial. This model also comes with the thermal flavor extractor and you can choose the flavor richness of your coffee. It can also keep your beverage hot for about two hours.
The CF091 has the ability to let you select different brewing sizes (six). You can either brew a single cup or full carafe depending on your needs. The dial is there as most of the models in the CF090 series. It allows you to choose the richness of the flavor along with the brew type.
You also use any brand of coffee with this coffeemaker without any hesitation and alter the flavor as per your preferences. Thermal flavor extractor is there as well to blend the water with calibrated temperature for the best taste either during the pre-infused or saturation stage.
The CF092 also features six brewing sizes from a single cup to full carafe. This model doesn't feature a dial and you need to use the button to operate. This programmable coffeemaker allows you to make customized brews according to your preferences. These include the likes of rich, classic, signature and over the ice.
There is a built in frother, a thermal flavor extractor as well as Auto-iQ technology. The coffeemaker has a 12-cup capacity and has a very chic and durable construction.
Frequently Asked Questions
Who should buy a Ninja Coffee Bar?
The Ninja Coffee Bar is a suitable option for a variety of lifestyles. If you are an avid coffee drinker accustomed to being a customer in a nice cafe, then you will need a coffee bar to clinch your craving. If may of your family members love to drink coffee then again a coffee bar is going to be a very helpful tool for you. =
Apart from that, if you like to enjoy different brews at different times then this coffee bar will come in handy.
Basically, Ninja coffee bars are built for the people who drink a lot of coffee or want to enjoy different flavors. These coffee bars provide you with flexibility in brewing and you won't need separate machines for different brews.
Can the Ninja Coffee Bar make espresso?
No, it doesn't make a real espresso if you are looking for that. But you can use Ninja Coffee Bar to adjust the ratio of ground coffee to water. The coffee bar will make that concentrated brew that you can use as a base for a cappuccino or latte styled coffeehouse drink. Using espresso will clog up the permanent filter and it might also overflow so don't use it in Ninja Coffee Bar.
What is the difference between Ninja Coffee Bars?
Different models of coffee bars from Ninja have different purposes. Some of them come with a large capacity and are ideal for a group of people. Whereas other models are suitable for three to four people because of small capacity.
With some coffee bar models, you can make different brew sizes and types as well while others only offer a couple of brew types. There are coffee bars with glass carafes and metal carafes as well. Each of them serves a different purpose and you need to buy a model that meets your demands and requirements.
Can you use K-cups in a Ninja Coffee bar?
No, you cannot use K-cups with a Ninja Coffee Bar. These coffee bars use ground coffee and can brew all its sizes from full carafe to a single cup. The measurements are given on the machine and you can use them to measure the amount you need to use to brew.
Which Ninja Coffee Bar is best for an apartment?
There is no right or wrong answer here because the size of the coffee bar depends upon your preferences. If you live in a small apartment and kitchen space is limited than a Ninja Coffee Bar CE201 is going to be very useful for you. It has all the features that the bigger counterparts have and it also comes at a pretty decent price. Arguably you can use CF087 Auto iQ one touch models of ninja that comes with touch intelligence (which can deliver a specialty brew at the press of a button).
Is the Ninja an Iced Coffee Maker?
Yes, Ninja coffee maker for iced coffee is also available in different models that enable you to make very tasteful iced coffee with different brew types as well.
Can you make good coffee with a Ninja Coffee Bar?
The answer here is definitely going to be a yes! The reason behind that is Ninja Coffee Bars come with a variety of options and controls to allow you to make a cup of coffee that tastes just right and as per the flavoring that you crave for.
You can try out different brew types and brew sizes. Many models come with a spate temperature control and flavor extracting features to provide you with the best-tasting coffee.
Wrapping Up
All in all, the CP307 is the best coffee machine on our list. It's a well built unit that will look great in your kitchen. The SharkNinja company has a history of great products and great customer care. The CP307 allows you to use multiple methods of brewing coffee and allows you to manual control the temperatures and you get to choose between different brew types and sizes. The metal construction of its carafe makes it a durable option. And of course, you can make iced coffee.
This is the entire purpose of a coffee bar. It must provide you with different options to explore when making coffee. If your coffee bar allows you to do that then you won't have to spend all your money by going every morning to a coffeehouse. You can do that right in the comfort of your home.