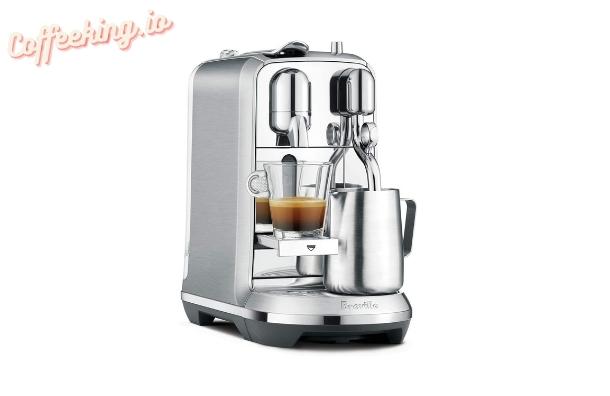 Nespresso and Breville, two of the biggest companies in the world of consumer coffee machines, have united their forces to bring forth their intricately thought-out love child, the Breville Creatista Plus.
In case you're not up to date, Nespresso's coffee machines have always been excellent, but only in terms of making espresso and black coffee. Their machines' milk frothing abilities were severely lacking.
Nespresso tried to compensate for this by producing external milk frothers, which were still not sufficient, and not ideal for making textured milk that's the number one priority for latte maniacs.
On the other hand, Breville had always excelled in the milk-frothing aspect. That's because the company's Australian team always strived to provide barista-quality coffee to the average consumer.
So, what do you think would result when both Breville's exemplary milk-frothing technologies and Nespresso's ideal capsule system unite together? A match made in heaven?
Let's dissect the Breville Creatista Plus, and find that out together. We hope you enjoy our review.
Sale
Best Breville Creatista Plus Features
The machine features the following:
8 different types of drink selections
A water tank capacity of 50 oz.
TFT display on top of the machine
Pump pressure of 19 bars
Heat time of only 3 seconds
Steam wand featuring auto-purge
Temperature sensor
11 milk temperature settings
8 milk texturing settings
3 cup sizes
Assisted cleaning system
Auto-shutoff after 9 minutes of the machine being idle
Used capsule container which holds up to 10 used capsules
Automatic steam wand
Nespresso's capsule system technologies
Ability to create latte art
It comes with a milk jug and a box of Nespresso capsules.
So, this little sweetheart has a multitude of astounding features. Without further ado, let's get started on them.
The Steam Wand
That's probably the number one most impressive feature that prominently stands out from the rest. But what's the big deal about steam wands?
Let me tell you. Steam wands, especially automatic ones, tend not to produce amazing results in regards to textured milk.
Rather, they produce that extremely frothy and bubbly milk, which is darn nice for cappuccinos, but not quite the candidate for lattes.
Ever caught a glimpse of your barista pouring milky liquid that's a bit heavy? That's the textured milk I'm talking about. The Breville Creatista Plus steam wand rocks that area.
The wand is actually cool to touch, you won't burn yourself, don't worry about that. It even purges itself once you're done steaming your milk.
But does the wand only specialize in textured milk? Won't I be able to produce nice frothy milk to top on my cappuccino? Never fret!
Looking for a Different Nespresso?
There are dozens of different types of Nespresso single serve espresso makers available on the market. Check out our unbiased buying guide.

Find the Best Nespresso For You

The Breville Creatista Plus includes a control dial through which you can adjust your desired density as well as the texture of milk you'll be using for your cappuccino, flat white, or latte and so forth.
The machine allows you to steam milk to 8 different textures, and it also includes 11 different temperature settings.
All you have to do to use the smart, automatic steam wand is to press the button, wait a bit for the magic to happen, and voila! You've got beautifully textured milk that's customized to your needs.
Nespresso Capsule System
That's where Nespresso's touch shines. If you've ever experienced a Nespresso's capsule machine, you should be familiar with this.
Instead of using coffee beans, or freshly grounded ones, all there is about it is to buy capsules. These capsules are air-tight ones that contain coffee.
These are available in a monstrous variety of brews so you'll never fail to find one that suits your taste.
A capsule is simply thrown inside the Breville Creatista Plus, and the machine processes it into your choice of drink be it a cappuccino, a latte, a flat white, a ristretto, lungo, espresso, latte macchiato and whatever else that floats your boat.
Latte Art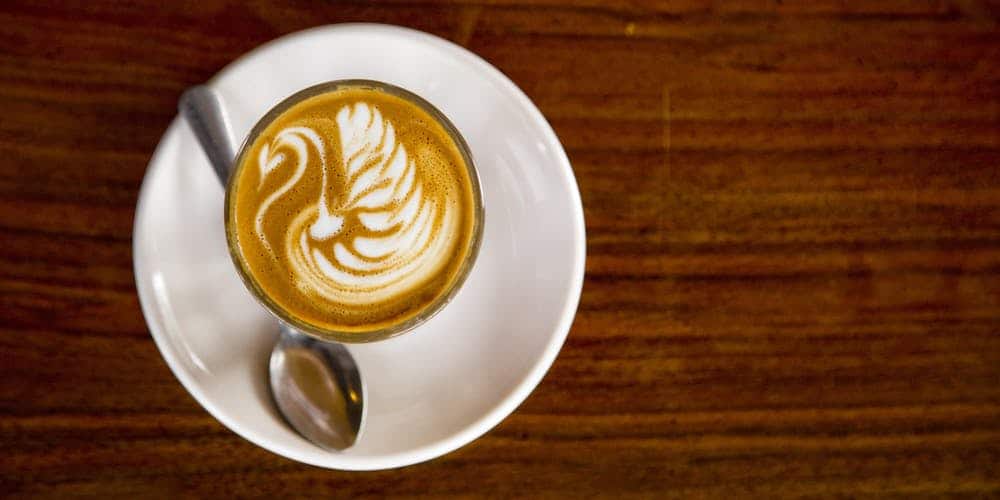 You can make latte art with the Breville Creatista, to some extent, and that's primarily attributed to the machine's state-of-art steam wand.
The machine produces textured milk in the exact consistency as per selected, and it's extremely accurate in milk temperature, as the machine's thermometer sits just below the milk jug.
But let's be honest, the Breville Creatista is a consumer coffee maker, and not a commercial, professional machine. So your latte art would be more of simple shapes as free pour rosettas and hearts.
Also, latte art requires practice, my friend. Buying the machine won't grant you insane latte art prowess from the god of baristas himself, capisce? You got to practice to nail this.
Breville Creatista Plus Performance
Let's check out the performance features of the Breville Creatista Plus!
Heating
The Breville Creatista Plus heats up in merely 3 seconds! That's thanks to the machine's ThermoJet element.
With heating duration as little as this, your morning coffee dose won't take much time, even if you're the busiest of all.
It's worth mentioning that the machine also self-deactivates after 9 minutes of being idle, that's to help you save energy.
Brewing
The machine's got 11 milk temperatures, 8 milk texture levels, as well as 3 programmable cup sizes (0.84, 1.35, and 3.72 oz.)
With just clicks of buttons, you can make 6 different types of coffee, or even just straight out milk. You get to control and view all of these through a beautiful digital colored display screen.
Design
The Breville Creatista Plus features an elegant design, with a complete stainless steel finish.
It weighs about 10.9 pounds, includes a TFT display screen on top, and has dimensions of 6.7'' L x 16.1'' D x 12.2'' H.
It's sleek and suitable for the standard consumer. No complicated assembly, nor weird unknown buttons.
Specifications
Dimensions: (L) 6.7″ x (D) 16.1″ x (H) 12.2″
Weight: 10.9 lbs
Finish: Complete stainless steel finish
Capacity: A water tank capacity of 50 oz.
MSRP: $599.95
Breville Creatista Plus Pros and Cons
Should You Buy the Breville Creatista Plus?
Alright, so this is a really broad question. It depends on what kind of espresso machine user you are.
If you're a standard coffee consumer, with the plain simple wish of having a convenient, durable, and sturdy espresso machine that includes amazing milk-frothing capabilities, then this would be the deal for you.
It's an entirely automatic machine, with no manual steam complexities, nor complex temperature and texturing customization.
The machine comes with a 2-year warranty, but even without this, what could go wrong with a stainless-steel clad machine and an intricate assisted cleaning system? This machine could seriously live with you for years.
But for the geeky baristas out there, this simple interface and totally automated processes aren't really a hype.
So maybe a semi-automated machine would be more suitable for you baristas, in which you have access to manually adjust the steam want and control temperature.
The other thing is the taste. The Nespresso capsules tend to be a hit-or-miss regarding exact taste.
You may want to opt for testing out the best brew that suits you, as some may come off as too bitter, you'd have to add more milk to balance it out.
At the end of the day, there's nothing that beats freshly ground coffee, but it's a matter of preference as well. In case you're not a fan of Nespresso's original capsules, you can opt for Nespresso's reusable capsules. They're perfectly compatible with the machine, and you may be able to improve the quality when you are able to choose which coffee to add to the reusable pod.
Wrapping Up Our Creatista Plus Review
Sale
The Breville Creatista Plus is a machine made with the convenience and ease of use solely in mind, and it never disappoints. While we have also reviewed a wide variety of Nespresso machines, you can be assured that an investment in the Creatista Plus would suit almost all use cases.
With a clean, simple interface, an automatic steam mechanism, capsule coffee instead of coffee beans, as well as preset temperature and milk texturing settings, there's nothing too sophisticated for the standard coffee machine user.
However, it doesn't go beyond that. Contrary to other manual espresso machines, the Creatista Plus doesn't provide much room for tampering and manually controlling the process, which may be a bit annoying to experienced baristas.
But generally, no matter what your taste in machines is, count on the Creatista Plus in the durability aspect. It's strong and easy to maintain and clean. Thanks to its step-by-step assisted cleaning system; it's a machine that'll age with you.
The Breville Creatista Plus, with all these fancy automated features and impressive steam tool, is one of the cheapest options on the market, so that's a thing to put into consideration too!