Gear
No storage is enough when it comes to one's home. Irrespective of how big or small your house is, there never seems to be enough storage space. This is why a coffee table with storage comes as a rescue for a lot of people who do not find space to keep the knick knacks of their living room in one place. Things like the extra wires of your TV set or coasters, or remotes, or unused magazines need a place to be hidden so that you can keep the clutter away in style. This is why it makes sense to have a coffee table with storage that can double as a space where you can showcase your beautiful decor as well as hide the stuff that can clutter your space. We are not exactly telling you about getting a coffee table with a bottom shelf but a coffee table which has hidden storage compartments where you will find unsuspecting drawers. This also makes your living room look neater and is a win-win situation for you in terms of style as well as functionality.
In this article, we share with you top 10 creative coffee tables with storage which will turn your coffee table into a powerhouse of organizing tricks.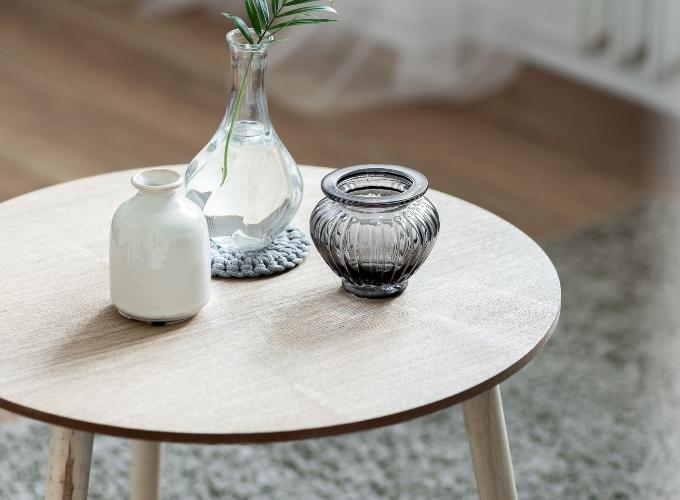 Top 10 Style Based Coffee Tables With Storage
1. America Sivenza Vintage Walnut Industrial Coffee Table
This rustic industrial style coffee table comes with vintage walnut finish framework with metallic side frames. It consists of compartments which comes with two drop down storage. Further, it also consists of two open shelves which ideal for storage as well as for placing display items. Furthermore, it is crafted with metal that is made of medium density fiberboard and veneer for practicality of use. With 18.5 inches in height and 46.8 inches in length, the side storage compartments and open shelves are deep enough to hold your storage items without any problem. The industrial look of the coffee table will give the right kind of rustic impression to your seating area.
Measurement: 18.5 inches high x 46.8 inches wide x 23.23 inches deep; side storage compartments measure 11.81 inches high x 21.1″W; open shelves measure 19.69 inches wide x 20.47 inches deep.
What is an industrial coffee table: Industrial coffee tables come with exposed metal hardware and oversized casters. The hardware is interesting and can stand out from the rest of the furnitures if you place it in any room. There is a wider notion that having an industrial-style coffee table means having a heavy and dark furniture with its modern touch. However, it is lighter in appearance than most other styles of coffee table. The reason for this is the exposed strips of metal and the use of lighter wood for its built-up. Although most industrial-style coffee tables are made entirely of metal, the one mentioned here is different in look and will add great amount of interest to the space.
2. Winsome Wood 94231 Concord Occasional Table, Antique Walnut
This classic traditional looking round coffee table is tailored with simplicity and elegance. It is made of composite wood with antique walnut finish and chrome coloured pull. The drawers beneath it are concealed and there is an open bottom shelf for display and storage. The lines are classic and made of beautiful wood making it an ideal piece of living room furniture for most people. Aforementioned, there is one storage shelf and a drawer that is walnut in colour. It will add elegance to a living room that is traditional in its theme. The surface is big enough all of 30 inches with rounded edges and the drawer is also concealed. The bottom shelf is ideal to place your magazines, oversized books, and other collectibles. The design of the coffee table is sturdy and handsome.
Measurement: Overall round coffee table has 30″ diameter with 18″ in height; drawer inside dim is 12.2″W x 10.63″D x 2.2″H, diameter of shelf is 22.77″ with 9″ clearance.
What is a traditional coffee table: Traditional coffee tables are a formal piece of furniture. They might or might not have ornate designs and details to them which could include curved legs, inlaid tops and is mostly made of rich wood. You need to have enough space to put a traditional coffee table in your living room because they are mostly heavy and large, which is why they will command space.
3. ioHOMES Trenton Crate Coffee Table, Espresso
This mid-century modern coffee table is crafty in its design and is slated with accents and handy compartments. You can flip the top centerpiece to reveal the handy compartment beneath so as to keep the items secure. There are a total of four compartments that are spacious and geometric in its design. The overall construction is made of medium fiber board and vintage walnut finish. You can easily wipe and clean it with a damp cotton cloth. The center of the table has an insert that can easily be closed to make the table top look smoother in appearance. You can even flip it to make it a tray for any functional use. This means that when you place your drinks over it, it is less likely to fall and will not roll off the center. It comes with beautiful detailed lines and slats that ensures that the beauty of the coffee table is its highlight. By placing your magazines and oversized books on the lower shelf you can easily keep your seating area neat and tidy. There are additional casters on this coffee table to ensure that you can move this durable furniture anywhere around the house.
Measurement: Item weight 57 pounds; overall dimension of the product is 31.5″L x 31.5″W x 16.93″H.
What is a mid-century modern coffee table: A mid-century modern coffee table is a type of coffee table that has been inspired by interior design styles that were popular between 1950s and 1960s. They are mostly characterized by neat and clear lines and bent wood in their construction. The wood furniture of this style is mostly simple in its finish to show off beauty of its own kind. You will find strong lines and squared corners. They are mostly lightweight and have a lift-top that you can flip to store your knick knacks. The weight of this kind of coffee table is evenly distributed so as to ensure that they are stable. The look of a mid century coffee table is striking and unique.
4. Jofran Kona Grove Rectangle Coffee Table in Deep Chocolate
This rustic coffee table is deep chocolate in its finish and is lightly distressed in its design. They can also be called farmhouse style because of their castered and distressed look. However, rustic and farmhouse cannot be interchangeably used in terms of style. The rustic style predominantly uses weathered wood and exposed metal accents such as nail heads. It could also be similar to industrial style but rustic coffee tables emphasises more on the use of natural wood, rather than metal. There are three pull through cubbies in this coffee table that can easily store your items and you can have easy access to them. You can even use it for occasional dining or for media use. This coffee table has a mountain or country feel to them.
Measurement: Overall Product Dimensions: 19″H x 48″W x 26″D; overall product weight: 55 lbs; drawer dimensions: 11.5″W x 22″L x 3.5″D.
What is a rustic coffee table: Aforementioned, this kind of coffee table is mostly made of distressed or weathered wood which might or might not have metal accents that are exposed. If you want the perfect rustic coffee table, you would want to buy a coffee table that is made of distressed wood. Having distressed wood in your living room will set the decor of the space apart from your other rooms and having a rustic coffee table is a great way to do that. This kind of wood is generally lighter than other types of wood options and there will be scars and marks on them but it is nothing to worry about. This adds character to the space with the piece.
5. ioHOMES Morgan Square Coffee Table with Serving Tray, Black
This contemporary coffee table includes a removable serving tray which can be used to serve drinks to your guests or it can also be used as a centerpiece holder. The coffee table is made of medium fiber board frame and is finished with laminate black. There is one set of serving tray with it that comes with a pair of drawers which has nickel hardware flip knobs. In addition to this, there are two open compartments on display to place your accent pieces. You can easily wipe or clean it with a damp cloth. It is a great piece of furniture in your living room space that caters to practical needs as well. The modern profile of having two large drawers for discreet kind of storage and easy access comes in a sturdy wooden finish that is in bold black. This contemporary looking coffee table is sure to enhance the decor of your living room.
Measurement: Measures 32-inch wide by 32-inch deep by 16-inch high; 30-days hassle-free replacement parts warranty.
What is a contemporary coffee table: Contemporary and modern style of coffee table can be interchangeably used, although it is the contemporary style that is more popularly used and are the kinds that trend more. Contemporary designs have stark features such as bold and bright accents. You will find glass tops or metal bases as some of the common features of a contemporary style coffee table. The appearance is mostly fresh and new. You won't find a heavy bulk in them just like you will find in a traditional style coffee table. They look great in a space with a contemporary or modern theme, which also has a lot of natural light. If you have a contemporary style coffee table in your living room, your living room is sure to look great and updated and you can incorporate other contemporary features in it as well.
6. Wood and Glass Cocktail Coffee Table with 2 Drawers – Off White
This wood and glass cocktail coffee table is a beautiful piece of Scandinavian style furniture. This stunning coffee table can complete your living room and add brightness to your lounge space. You can complement the whiteness of this coffee table with vivid pillow covers for your couch. With a solid wood construction and glass frame on the top, this off-white finished coffee table would even look great next to lounge chairs. The see through glass on the top can display the items that lie within it for everyone to see. It also features an extra storage shelf that lies beneath the table top. This is quite a welcoming addition to your living room! In addition to all the above the knobs on the drawers are brushed in silver.
Measurement: Overall dimension is 42″ W x 22″ D x 20″ H; 2 drawers measuring 17.25″ x 16.25″ D x 2.25″ H; bottom shelf measures 41.75″ W x 16.5″ D x 9.5″ H.
What is a Scandinavian style coffee table: Scandinavian style coffee tables feature feminine lines and detailing such as use of vivid colours rather than the dark browns of wood. This kind of design is gaining worldwide popularity and for all the good reasons. People love this style because of their minimalism, neat lines and functionality. They give a lot of attention to the shape and final appearance of the furniture. And undoubtedly, these pieces stand out in the room you place them in for all the good reasons. You could look for the kinds with metal legs or without them but what will draw you towards them is their straight lines.
7. Knox Coffee Table
This transitional style coffee table is combines plenty of space and a sliding table top panel. This dark espresso coffee table has 2 drawers and a sliding top panel for plenty of storage. This table gives any living room a modern look. There are two deep drawers and a sliding table top panel to provide plenty for storage space. In terms of storage capacity, the knox coffee table is an excellent piece of furniture. You can store more than just your knick knacks in it – from your oversized books, unused magazines to your cluttered TV wires – you can store even your old clothes inside them if need be.
Measurement: 17 inches high x 47 inches wide x 17 inches deep
What is a transitional style coffee table: Transitional style coffee table is a combination of traditional style and modern/ contemporary style. The feel of this kind of furniture is more casual and functional. The best part about a transitional style coffee table is that it can suit any decor style of your living room. This style does not imbibe bare wood look and colours or light stains. It will appear dark in its look and will give you more of a modern feel as they will have a number of features that are similar to a modern or contemporary style coffee table. They are a rare combination of good style and great functionality.
8. Furniture of America Sydney Coffee Table in White
This modern looking Sydney Coffee Table shows your bold side with its clean white lines and black accented glass insert. The two-tone design displays a sophisticated contrast that looks sleek and slim. One open shelf provides spacious storage for all your needs while the smaller side shelf is perfect for housing décor, books, movies, and more. The glass insert is a convenient view pane so items resting on its lower open shelf are easily accessible. Amplify the daring aesthetic of your home with the Sydney Coffee Table. It has a sturdy flat base and an under the table storage area for putting your decor items or just books, magazines and newspapers.
Measurement: Overall Product Dimensions 16″ H x 47″ W x 24″ D; product weight 74 lbs; side shelf 9.6″ H x 22.4″ W x 7″ D, glass compartment 5.2″ H x 14.4″ W x 23.6″ D.
What is a modern style coffee table: A modern style coffee table is a mix of classical energy flowing over minimalist design. Have you noticed ever noticed a leather surface over a wooden toned framework, with an oriental piece of coffee table all in the same space? That is a modern style living room! They are never cluttered as they essentially focus on the seating and lighting to add a personality to the space. Simplified design with maximum space that is a modern style coffee table for you! As a reaction to traditional and overly classic architecture, minimalist style of coffee table looks to create functional space in a very simplified way. The idea is to stick to the basics and eliminate unnecessary designs and curves.
9. Wooden Coffee Table Storage Chest
This extra large rustic style coffee table comes with storage chest with a false bottom hidden compartment. It is entirely made of walnut stained distressed knotty pine. The chest of the coffee table has a false bottom secret compartment that is like the hidden area. It also comes with a carpet liner that is removable and you can rest your big items in them such as important papers and documents, or even guns as they can be easily accessed. The wood that it is made up of is stained walnut that is unfinished. It serves as a storage chest as well as a coffee table and you can even include it in your bedroom if it is a big one. You can even sit over it, if you want to. The functionalities of this coffee table is tremendous and it is also classy in its look.
Measurement: Width 18 inches, height 17 inches, length 45.50 inches.
What is a rustic style coffee table: Imagine a large coffee table combined with wooden distressed finished and overexposed metal accents, that is welcoming as well as reflects a very laid back nomadic essence to it – that is a rustic style coffee table for you. Rustic style embrace nature-inspired textures, organic warmth and earthy tones. The wood used in making this kind of coffee table are generally lighter than other types of wood options and there will be scars and marks on them but it is nothing to worry about. This adds character to the space with the piece.
10. Home Huxley Trunk Coffee/ Cocktail Table
Trunk coffee tables are a hit among interior decor lovers all over the world. It is a vintage type of furniture that is edgy in its design and retro by its looks. The trunk coffee table looks exquisite in their design and gives enough space to store more than just remotes and magazines. The top can be lifted up to give you access to plenty of storage space that can take you by surprise and you can quickly have access to them whenever you want.
Measurement: Approx. weight: 62 pounds; supports up to: 50 pounds (top), 40 pounds (interior storage), tabletop: 37.75 inches wide x 20.25 inches deep; interior storage: 35.25 inches wide x 17.75 inches deep x 12.5 inches high (plus 2.25 inches in lid).
What is a vintage style coffee table: Bold colours, quirky decor, refurbished accessories, art patterns are some elements of a retro style coffee table. Sometimes the surface area of the coffee table might look more like a seating area than a coffee table top but that is what makes it look unique and quirky. The idea is to make trendy designs enhance your coffee table, without of course, going overboard with the style. It could often give the feel of an overwhelming look but also helps to break away from monotony.
Material Guide For Coffee Table
Here are some of the most common materials used for making a coffee table:
1. Metal
It is one of the most popular picks for a coffee table as they are made of durable iron or steel aluminium or other alloys. The best part about having a metal coffee table is that they can easily be cleaned and is best complemented with a glass top or a combination of both wood and glass.
2. Wood
Wooden coffee tables will never go out of fashion and since it is susceptible to water rings a lot of people use table pads or coaster to protect it from water.
3. Glass
Glass is another popular material used to make coffee table. However one thing you need to keep in mind is to keep it clean from water rings or spills as they are visible on glass and which is why they need to be cleaned on a regular basis.
4. Stone
Though this material is not as popular as the three above, it is still used on a number of traditional coffee tables and the choice of materials are mostly slate or marble. How you maintain it is mostly dependent on the choice of material used.
5. Upholstered
These coffee tables are great to rest your feet on. Even though the top might be cushy, they are sturdy in their design and provides the feel and comfort of an ottoman. You can even place your serving tray on top of them.
Conclusion
The coffee table is one of the center pieces of your living room and this is one reason why it should be the selected to perfection. Traditionally people go for rectangles or squares but it is not a necessity. Always keep the theme of your living room in your mind when you get a coffee table so that it goes in sync with the overall vibe of the place. Furthermore, a coffee table with storage provides you in plenty in terms of functionality as it can be used both as a coffee table as well as a storage chest. We hope this guide has been beneficial for you to decide upon why a coffee table with a storage is a must for you.