Without a doubt, the Cuisinart 14 Cup Programmable Coffeemaker is one of the top drip coffee makers on the market right now. It has also grown so much in popularity that many coffee drinkers are rushing to buy it without knowing if it is the best option for them. 
While this product is an excellent choice for many reasons, it is still important that you know more about it before placing an order. To help make that easier for you, we will provide an in-depth review of the product and answer some of the most important questions you may need answers to. 
Sale
Our Cuisinart Coffeemaker Review
Here's a guide to our review: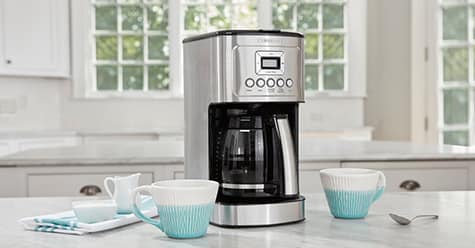 This top-quality programmable coffeemaker comes with all the features you will desire in a modern coffee machine. One of the most remarkable things about the machine is the cutting-edge coffee-making technology deployed by the Cuisinart brand. This ensures that you obtain hotter coffee from the machine without any form of compromise to the quality or flavor. It features Gold-Tone coffee filters and Charcoal Water filter. 
This machine also features brew strength control that allows the user to select the kind of brew he/she wants to obtain: you can decide to have a regular or bold coffee flavor depending on your mood. Also, you wouldn't have to stress about doing anything extra to obtain the type you want.
This single serve coffee maker is also fully automatic with 24-hour programmability, self-clean, 1-4 cup setting and auto-shutoff (0-4 hours). You also get an optional ready alert tone. 
Using this coffee machine is a lot easier than using most other machines on the market. It has an easy-to-view water window for accurate filling. Another impressive thing is the Brew Pause™ feature that allows users to enjoy a cup of black coffee even before the brewing cycle has finished. In case of a power loss, there will be no effect on the quality of brew you will obtain as the 60-second reset feature recalls settings and position in the brewing process. 
For any electronics, it is one thing to have incredible features and it is another thing entirely to perform as expected. In the case of this Cuisinart appliance, it fulfils the dream of any coffee brewer. It is a well-designed machine that performs the special task of brewing hot coffee in the best manner. It is one of the most intuitive drip coffee makers on the market. 
With this machine, you have different options on how to enjoy your cup of coffee in the morning or whenever you want. It is a truly versatile machine that works seamlessly to make the best type of coffee according to your taste. The various elements of making coffee can be adjusted easily with this machine and things will work out smoothly till you have your cup of black coffee in your hands. 
One of the best ways to illustrate the performance of this machine is to talk about the efficiency of the Brew Pause™ capability. Imagine being in a rush in the morning but not considering forfeiting your home-made cup of coffee. This drip coffee machine has you covered as you can quickly sneak a cup without making a mess. This feature, as well as the others discussed above work perfectly.
You can get just the right quality of coffee you want with this device once you understand how to work it. Learning to program it may take a little while but once you are conversant with the machine, it is a reliable coffee maker that will give you cups as flavorful and as hot as you want them. 
A good cup of coffee will get you fired up for the day but that is not all that matters to real coffee lovers. Asides from the stimulation, real coffee lovers cherish the taste of coffee in their mouth. Whether you want it regular or bold, or you want to make it hotter, coffee should always taste good. 
It is no secret that there are lots of coffee machines that will give you cups that have awful scorched taste once the temperature gets to a certain level. This is not the case with this Cuisinart unit. Once the brewer knows what he/she is doing, the brew will taste great under any circumstance.
While most users can attest to the quality of coffee they have brewed with this coffee maker, the verdict from real-life  tasting test panels has not been any different. Most people on testing panels have confirmed that the coffee made with this Cuisinart machine is often aromatic, hot and tasty. The flavor may be weak to some people but it is mostly a matter of getting it right with programming the machine. 
The design of a coffee maker may have very little to do with the quality of brew you can obtain with it but it is still an important factor to consider. Since the coffee maker is going to be part of your kitchen appliances, it needs to look as great as possible. 
This Cuisinart is not one of the most eye-catching coffee makers on the market. It packs most of Cuisinart's best innovations over the last few years into a simple, functional design. It follows the minimalistic, no-frills approach of the company's products. The main body is perfectly shaped and the sleek decorative stainless steel handle help to beautify it further. There is equally a high-quality glass carafe that fits warmly into the base of the machine. 
While this is not one of the loudest coffee machines, it offers subdued elegance in your kitchen that you will come to love. It will slip into your kitchen background easily without being loud in any way. 
To keep any of your home appliance working perfectly, you need to maintain it appropriately.  Cleaning your coffee maker is something you should take seriously since it also affects the quality and safety of the coffee you will obtain from it. 
Cleaning  is quite a simple and straightforward process. The machine is a self-cleaning device. It will also inform you when it needs cleaning as the 'clean' LED indicator will come on. You don't have to always wait till this light comes on before cleaning the machine, however. To clean, you can simply our white and vinegar or your preferred mild cleaning solution and hit the 'clean' button. Afterwards, run clear water to rinse. It is best to carefully hand-wash the carafe, brew basket and lid. 
Though the filter is expected to be okay throughout the lifespan of the product, you can rinse it with water routinely. As part of maintenance, you should keep your machine in a safe place and protect it from power surges. 
Capacity: This 14 cup programmable coffee maker has a capacity of 70 ounces total since Cuisinart's cups are 5 ounces. This is almost 9 servings in modern 8-ounces mugs.
Materials: Solid stainless steel shell, plastics, and glass. 
Dimensions: 7.8 x 9 x 14 inches. 
Weight: 8.75 pounds. 
Cost: The MSRP is $99.95. 
Not Sold on the DCC-3200?
We've reviewed hundreds of drip coffee makers and narrowed it down to the best 16 for 2020. Check out our buyer's guide
Consider the following when thinking about what makes this coffee brewer great:
Capacity: This is a 14 cup capacity coffee brewer. You can also push the '1-4 Cup' button when you need a single or few cups. It is a remarkable product for the price. 
Customization: This coffee maker offers you lots of brew customization options that will help you program exactly what they want with minimal effort. It is quite easy to use. 
Cleaning: The self-cleaning function is so efficient that maintaining this appliance will be one of the easiest tasks for the owner. 
Programmable: This is a fully programmable coffee maker and all the features work efficiently. The Brew Pause™ feature is one of the many you will enjoy using. 
Materials: It is made with the right materials and designed in a manner that will make it last for a long while. The 3-year warranty is another positive indicator that it is a durable coffee machine.
The following are some of the shortcomings that you may notice:
Speed: This is not one of the fastest coffee brewing machine you will find on the market. 
No Thermal Carafe: It does not support the use of a thermal metal carafe. 
Not Energy Star Rated: This means that its energy usage may be a bit too high.
Frequently Asked Questions
What does the bold button do on the Cuisinart coffee maker?
The button makes the machine to produce bold/stronger coffee instead of regular brews. This is achieved by slowing down the amount of water that passes through the coffee grind and filter, giving it more time to steep in the coffee grind, improving the brew strength. 
How long does a Cuisinart coffee maker take to brew?
Generally, this depends on a number of factors including the model of the Cuisinart coffee machine, the capacity of the machine, and the quantity of coffee to brew. Overall, the process can last anywhere between 5 and 10 minutes. 
Who makes the best drip coffee maker?
There are several top brands of coffee makers that we review on CoffeeMakersAdvisor. The most notable ones include Cuisinart, Bonavita, Breville, Black+Decker, Ninja, Mr Coffee, and BUNN. 
What is the best coffee maker?
The best coffee maker is that particular one that suits your immediate need. This means what represents the best option for Person A may not be the right product for Person B. After considering this buying guide and checking out a review or two on Amazon you may find out that the Cuisinart 14 Cup Programmable Coffeemaker is the perfect option for you. 
The Cuisinart 14 Cup Programmable Coffeemaker is an excellent machine for the home coffee customer who wants to get the best with minimal effort. In review after review on Amazon, users rave about this machine and recommend it for a range of use cases.
The well-built and fully programmable machine has several incredible features that make coffee making easier. It is also a reliable machine that will deliver top-quality cups of coffee once the brewer gets few things right. It is a self-cleaning machine and very easy to maintain.  While the lack of a thermal carafe and lower energy efficiency can point some consumers in other directions, this quality coffee maker excels in almost all categories. If getting great homemade coffee without any fuss is your priority, this is a great coffee maker to consider.