Gear
If you're a coffee fanatic like me, you know that for years the Keurig brand has been synonymous with a consistently amazing brew. The company, founded in 1992, got its name from the Dutch word "excellence", and it certainly delivers.
Pioneers in the world of single-serve coffee makers, there's no going back for Keurig owners who have experienced the convenience and joy of brewing a single perfect cup of coffee instead of wasting time and money making an entire pot with regular drip coffee makers.
The Keurig Plus Series coffee brewers all enable you to brew a cup, mug or carafe of coffee (as well as several other beverages) at the touch of a button- a nice addition in comparison to their classic single-serve counterparts.
Here I'll be reviewing one of my favorites of the series, the Keurig K250. While Keurig has subsequently brought out the Keurig K-Select model as a newer version, the K250 remains available and is a solid choice for single serve coffee maker lovers. Read on to get to know the ins and outs of this great brewer.
Our Keurig K250 Review
This single-serve coffee machine comes with a variety of unique features. With Keurig 2.0 brewing technology, this brewer is programmed to read the lid of each K-Cup, K-Mug, and K-Carafe pod to ensure you get the perfect brew with every use.
The 40oz water reservoir allows you to brew 4+ cups of coffee. It's removable for easy cleaning and refilling, with a water level window so you know how much water is left without having to remove it.
The 2-inch black and white touch screen display makes choosing your settings fast and easy.
It's highly customizable with multiple K-Cup pod brew sizes (4,6,8, and 10 oz). You can also brew a 16 oz travel mug with K-Mug pods and 30 oz carafe with K-Carafe pods. The carafe is sold separately. With ten brewing sizes available, you'll be hard-pressed to find a coffee maker with more size options than this one.
I, personally, find a cup of weak coffee seriously off-putting. That's why I love the following feature: a strength control setting for those who like to enjoy a bolder cup of coffee. What's even better is that it can be used with any K-Cup pod brew size!
A high altitude setting is also available to optimize use for those living at higher altitudes (5,000 feet and above).
The Keurig K250 can also brew specialty beverages such as tea, mocha and hot cocoa. Simply put in the suitable pod and lower the handle. Then press the "Hot Cocoa/Other" button on the screen, and ta-da! Your favorite drink will be ready in a snap.
You can also use it as a hot water dispenser by lowering the handle without inserting a pod and selecting your desired brew size.
This coffee machine comes with 4 K-Cup pods (Green Mountain Coffee Breakfast Blend, The Original Donut Shop Regular, Starbucks Pike Place Roast, Swiss Miss Hot Cocoa), a water filter handle with 2 water filters (its water filtration system is the only thing that differentiates it from the otherwise identical K200 model), and a bottle of descaling solution to help extend the life of your brewer.
You should descale your system every 3 to 6 months depending on the mineral content in your water (that's why using bottled or filtered water is best). This will help keep your machine in mint condition by removing mineral build-up that can affect the taste and quality of your coffee.
Many people might not like being limited to the official Keurig 2.0 pods when choosing their coffee. That's why Keurig manufactured their My K-Cup Universal Reusable Coffee Filter accessory (sold separately) enabling users to brew using their favorite ground coffee.
Not only will this give you an even wider variety of coffee than with the K-Cup pods originally intended for use, but it will also lessen your environmental footprint as K-Cup pods aren't biodegradable- a major drawback.
Still Looking for a Keurig?
There are dozens of different types of Keurig single serve coffee makers available on the market.  Learn which one is the best for you with our unbiased Keurig reviews buying guide.
Design
Featuring a sleek and compact design, the Keurig K250 is only 9 inches wide, slim enough to fit on your countertop without taking up too much space (where I live, counter space is pretty much worth its weight in gold). It has a standard lift handle under which the coffee pods are placed.
The 2-inch black and white touch screen is intuitive and has different settings for size, strength, and type of beverage. You don't have to be tech-savvy to use it though; it's just smart enough for you to customize your settings without being too complicated.
Though this brewer has a rather sturdy build, it is made of all plastic, which renders it of lower quality and less durability than other stainless steel machines. Some users complained that after some time the water reservoir gave their coffees a plastic taste.
One of the most unique things about this brewer is that it comes in 10 different gorgeous colors: Black, White, Oasis, Imperial Red, Sandy Pearl, Peacock Blue, Turquoise, Strawberry Red, Purple, Orange Zest and Plum Gray. A few designer colors are available as well.
Although the traditional black coffee maker will never go out of style, I just love the idea of being able to match your brewer with your kitchen decor.
The colors are so pretty. In fact, I, for one, am willing to overlook the fact that it's made out of plastic in favor of having this colorful beauty make me my coffee every morning.
The water reservoir and drip tray are removable for easy cleanup. You can also fit a travel mug up to 7.2 inches in height under the handle when you remove the drip tray. The drip tray can hold up to 8oz of liquid, so you don't need to empty it after each use.
Keurig recommends that these parts be cleaned by hand with soapy water as they aren't dishwasher safe.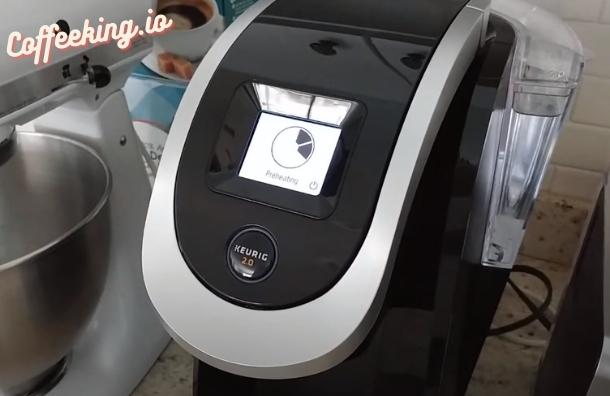 Performance
The Keurig brand name speaks for itself in terms of performance; you simply can't go wrong with any of their models.
With this brewer, you'll get a perfect, steaming hot cup of joe in under one minute. Like any single-serve coffee machine, it does make noise, though not as obnoxious as others on the market.
Whether you're brewing just for yourself or for your whole family, the Keurig K250 will not disappoint.
Specifications
Capacity: 48oz
Materials: BPA- free FDA-approved polystyrene plastic
Dimensions:13.7 x 9 x 15 in
Weight: 7.5 lbs
Should you buy the Keurig K250?
Deciding whether or not the Keurig K250 is the right coffee machine for you ultimately depends on your individual preferences. If the answer to most of the following questions is yes, you'll be very satisfied with this brewer:
Do you have limited counter space and only have room for a compact machine?
Is a colorful coffee machine appealing to you?
Are you willing to spend money on official Keurig 2.0 pods and/or the My K-Cup Universal Reusable Coffee Filter?
Do you live at a high altitude?
Do you enjoy a stronger cup of coffee?
Is having several brew size options important to you?
On the other hand, if your answer to these questions is yes, then you'll probably want to look into an alternative single-serve coffee maker:
Do you like your coffee maker to be made of more durable stainless steel material?
Do you drink espresso often?
Do you like to have a milk frother attached to your coffee maker?
Do you prefer a coffee maker with a big water reservoir?
Are options such as temperature control, automatic shut-off, programmable brewing times and power-saving mode important to you?
Do you have a limited budget or are unable to buy official Keurig pods in the long-term?
Wrapping up our Keurig K250 review
The Keurig K250 is a solid machine made by a reliable brand. In the end, whether you should buy it or not all boils down to your personal references.
With hundreds of different K-Cup pod varieties from all your favorite brands available to discover, in addition to making tea, hot cocoa and more, this brewer will make waking up each morning truly a joy.
Although you can't go wrong with Keurig in general, if you decide that this particular model meets your needs, you surely won't regret it. It may not have all the features other high-end machines have, but it gets the job done with finesse.