Gear
If you are already a fan of the classic Keurig K-Cup Brewing System, you will find more of what you love in the Keurig K55. What makes this single-serve coffee maker stand out even amongst other Keurig coffee makers is its ease-of-use and the speed in which it can brew you your favorite cup of coffee (less than sixty seconds). The Keurig K55 is a great choice if you are looking to upgrade your Keurig coffee machine or try a single-serve coffee machine for the first time! This Keurig K55 review will give you all the information you need to make sure that this coffee machine is perfect for you.
Sale
Our Keurig K55 Review
The Keurig-K55 The Classic Keurig K-Cup Single Serve Coffee Maker is a perennial best-seller. Here's a guide to our review: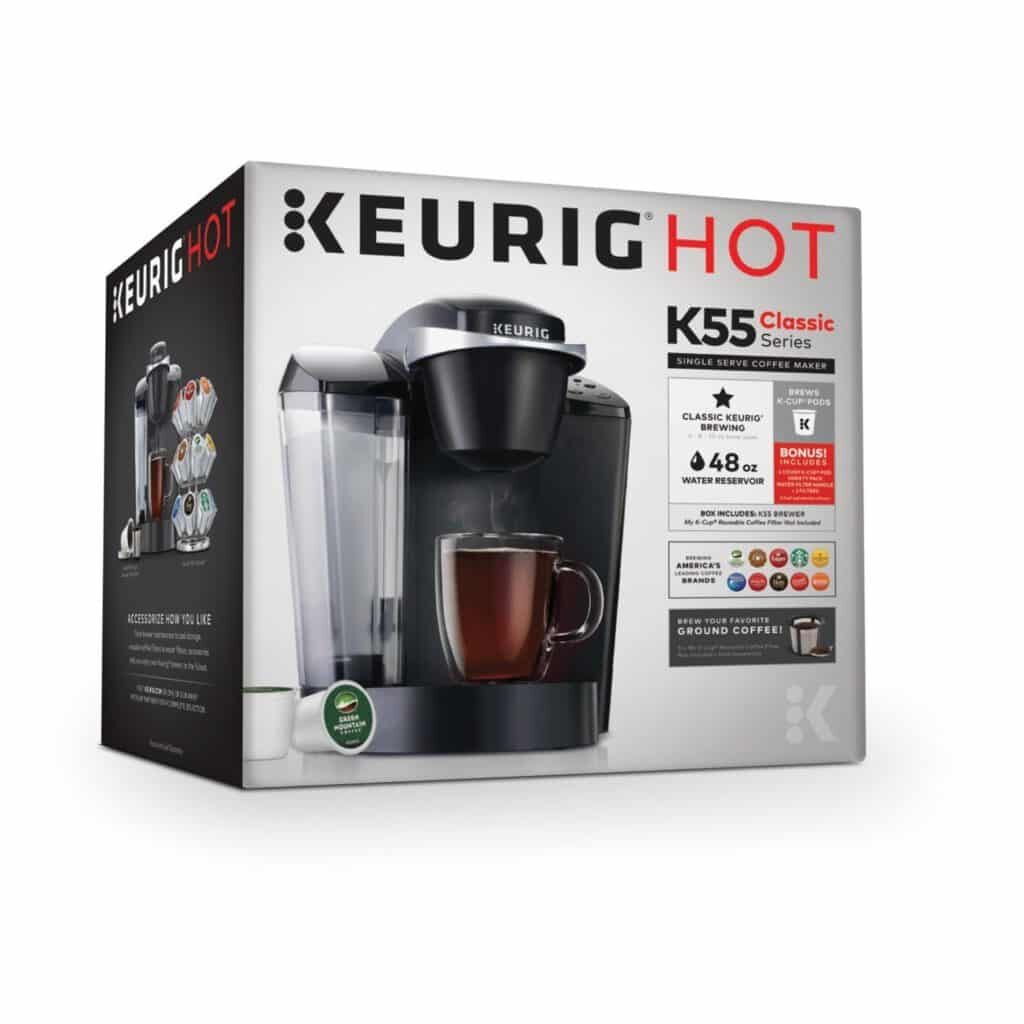 Features
The Keurig K55 offers a lot of great options that make it simple and easy to use. Here are some feature highlights you can look forward to in your K55 Keurig:
Removable Drip Tray: The removable drip tray is great for using larger travel mugs
3 K-Cup Sizes: Choose between 6 oz, 8 oz, or 10 oz coffees! Varying the size can help strengthen or weaken the flavor of your favorite K-Cup.
Descaling Function: Over time, calcium and other mineral deposits will accumulate in your Keurig K55, which can impede function. When used, the built-in descaling function helps remove mineral deposits and keeps your Keurig in great working condition.
3-Button Control: Once powered on and your desired K-Cup inserted, all you have to do is choose the size of coffee you want and your Keurig takes care of the rest.
Auto-Off Feature: When activated, the auto-off feature will automatically power down your Keurig after two hours of no activity.
48 oz Removable Water Reservoir: Being able to remove the reservoir makes adding water a quick and easy process. It can brew about six cups of coffee without having to be refilled.
2 Water Filters: Even if you do not have access to filtered water, the built-in water filters do a great job of keeping your coffee tasting fresh.
Sale
Performance Review
The performance of the Keurig K55 is one that focuses on brewing speed. This coffee brewer speedily makes you a cup of coffee in less than a minute, which makes it the perfect accessory for those always rushing and always on the go. And its brewing speed is not just advertising, either. It has been repeatedly tested in Keurig K55 reviews and by users alike and it consistently clocks in right at a minute!
The buttons are easy to see and easy to use. There are five buttons total; three to indicate the size of coffee you want to brew, one to power the Keurig on, and one to activate the auto-off feature. Even the most novice of Keurig users should feel right at home brewing coffee with this coffee maker.
Removable features are very easy to take off and reattach. The trip tray goes on and off without a problem, and the water reservoir is easy to place back into the base, even when completely full of water.
One of the best features is its descaling option, which helps remove mineral build-up. We will touch more on this feature in the cleaning and maintenance section, so keep reading!
Overall, the Keurig K55 is one of the most well built, full-featured coffee machines on the market today. We review all kinds of single serve coffee makers and machines and this unit is almost always one of the most requested.
Taste
The taste provided by the K55 is going to be relatively basic, depending on the K-Cup you end up using. You do not have the option to change the temperature of the water, which can limit flavor variety in your cup of coffee. You can play with the size of the cup to add some variety to how strong or weak your coffee ends up brewed. If you add water, your coffee will be weaker, and if you brew with less water, it will be stronger.
Some users have reported that their coffee has a plastic taste with it. This could be due to not running a couple of empty cycles through the coffee maker upon the first activation. It also may be a symptom of too lightly brewing the coffee. If you experience a plastic taste, run a couple of cycles through the Keurig without a pod present, run the descaling feature, and if tastes persist, consider brewing the coffee stronger or trying different K-Cups.
The K55 also has an optional empty Keurig coffee K-Cup adapter that can be used with ground coffee, should you already be dedicated to a particular roast. You will want to be sure to strictly follow the measuring guidelines if using your own coffee, as putting too many grounds can cause an overflow in the coffee maker. It is, however, a great option to enjoy your preferred roast or to simply cut down on the cost of multiple K-Cups.
Design
The design of the Keurig K55 is simple, basic, and straightforward all the while maintaining the sleek, modern look that Keurig owners have grown to love. In an update from previous models, the k55 is available in a variety of colors, including, red, white, blue, and black. If there is a certain aesthetic that you are trying to maintain in your kitchen (or wherever you happen to find your Keurig), you will be hard-pressed to find a coffee maker as attractive as this one.
Looks aside, the design of the Keurig K55 is meant to support its goal of being easy to use. All buttons for the k55 are easy to find and in one place. The coffee size buttons light up and the power and auto-off buttons are accompanied by green lights that make sure you know when they are and are not activated.
The design of the Keurig K55 maintains the sleek, modern look you have grown used to from the Keurig brand without compromising its simple design and easy-to-use features.
Cleaning and Maintenance
In review after review, one of the biggest reasons customers say that they buy a Keurig in the first place is because cleaning is so easy. The K-Cups remove the traditional mess and need of cleaning that you may find in traditional brewing. They accomplish this because the contents of the K-Cups never come in contact with the internal components of the Keurig.
However, as with many coffee makers, you will eventually need to go through the descaling process, even with the solid water filter on the K55. With many single-serve coffee makers, including older models of Keurigs, this involved buying descaling solution and running it through the machine. However, the K55 completely eliminates the need for buying a descaling solution. It has a built-in descaling process that helps to remove mineral deposits from the water path.
Sale
Specifications
Capacity: 48 oz Removable Water Reservoir
Materials: Plastic
Dimensions: 9.8 x 13.3 x 13 inches
Weight: 10 pounds
MSRP: $84.99
Looking for a Different Keurig?
There are dozens of different types of Keurig single serve coffee makers available on the market. Learn which one is the best for you with our unbiased buying guide.
PROS
The K55, even when compared with similar models like the K50, offers significant advantages. Consider the following when thinking about what makes this coffee brewer great:
Descaler: The benefit of a built-in descaler process cannot be understated. Eliminated the need for descaler solution removes a huge chore that is typically present in single-serve coffee makers like the k55.
Quick Brew Time: Brewing coffee in under a minute is incredible!
Two Water Filters: Having more than one water filter built into the K55 means you do not have to worry about hard or soft water tainting the flavor of your favorite coffees. The K55 water filter is easily replaced.
Removable Drip Tray: This is the one part of the Keurig that will need regular cleaning. Having it be removable makes cleaning that much easier. It also allows you to use taller travel mugs for on-the-go drinking!
Auto-Off Feature: The auto-off feature saves on energy and makes sure that your Keurig is not up to anything suspicious while you are away from home.
Simple, Clear Buttons: Even if it is your first time seeing the Keurig K55, it will only take you seconds to figure out how to use it thanks to the easy to see and easy to use buttons. And since there is only five buttons total, it makes learning how to use the Keurig easy for almost anyone.
CONS
Though the K55 Keurig is a pretty solid single cup coffee maker, it is not without its flaws. The following are some of the shortcomings that you may notice in using the K55:
Temperature Cannot Be Adjusted: The temperature setting for the water has only one setting. While this is not a huge issue for most coffees (though it can be limiting in experiencing different flavors), it is a significant blow if you are wanting to brew tea with the K55. Different kinds of tea brew best at different temperatures, so consider that when thinking about purchasing this Keurig.
Cup Sizes Relatively Small: The largest cup size offered by the K55 is 10 oz, which some may find a little small. This is especially true if you are using travel mugs, which usually run 16 oz or larger. You can always brew more than one K-Cup in the same mug (it would only take two minutes for two K-Cups), the cost of going through K-Cups that quickly can start to add up.
Plastic Materials May Affect Flavor: There have been some Keurig K55 reviews of a plasticky taste that is sometimes produced by this brewer. We talked a bit about it earlier in the article, but it is still something to keep in mind.
The Keurig K55 is best for…
Those on the go: With a brewing time of less than a minute, this is the perfect machine for those who want fresh, hot coffee in the morning but do not have the time for a lengthy brewing process.
Those who want to make coffee for several people: The 48 oz water reservoir makes it easy to quickly brew six or more cups of coffee, which is handy when you have a group of thirsty guests. It also excels in groups with a variety of tastes, as K-Cups can be quickly exchanged between brews without any after-taste from the previous pod. You won't have to add water every third cup of coffee like on some smaller units.
People who hate messes: Keurigs are, by their nature, pretty clean. The K-Cups really keep any potential messes contained. The K55 continues this tradition with little to no cleaning needed.
People who hate frequent maintenance: If you are not wanting to tinker around with your coffee brewer, you are in luck! The K55 is a high-quality, long-lasting coffee maker with very low reports of malfunction or error. The only real regular upkeep you will need to do is using the descaler (but not descaling solution), which is built into the machine itself. The K55 is easy to take care of.
Those who like to drink something different every morning: K-Cups make it easy to have a variety of drinks to enjoy in the morning without worrying about getting bored with a single flavor. Unlike buying bags of coffee, buying a variety of K-Cups is comparatively inexpensive to buying several bags of name-brand coffee.
People who value style with functionality: There simply is not a better looking single-serve coffee maker on the market than Keurig right now, and the K55 is no exception.
Those who want a simple, straightforward machine: The Keurig K55 is simple to use and easy to learn. If you do not want the bells and whistles that often accompany higher-end coffee machines, including controlling water temperature or programming options, then the K55 is a fantastic choice.
The Keurig K55 is NOT best for…
Those looking to brew different kinds of tea: If you like using your Keurig as a hot water machine for tea, the K55 may leave you wanting. It can only heat water to one temperature, meaning that if you are wanting to brew tea aside from black tea, you may not have the best tasting experience.
People who want the aesthetic of stainless steel: The all-plastic design of the Keurig K55 will definitely clash with a stainless-steel kitchen aesthetic. However, if you are set on having a Keurig, there are higher-end models that are made with stainless steel.
Those wanting to brew a big cup of coffee in one round of brewing: The max mug size the K55 can brew is 10 oz. If you were hoping to fill up a travel mug or a big coffee mug full of coffee, you may need to look for a larger capacity coffee brewer.
Those who want more features for coffee brewing: Do you want to program the Keurig to start at a specific time? Do you want to be able to change the water temperature to exactly what you want? The Keurig K55 lacks the bells and whistles of other higher-end coffee machines. If you are looking for a barista-like experience, a different model of Keurig will serve you better.
Those who want a single-serve coffee machine that can use pods other than those that are K-Branded: The K55 can only brew K-Branded pods, and most major coffee brands have compatible options. However, if you were hoping to use pods that do not have the K stamp of approval, they will not be functional in this coffee machine.
Sale
Frequently Asked Questions
What model of Keurig is the best?
As with many products, the best Keurig model is the one that best fits your needs. There are other models that specialize in their own special niche. For example, the K-Mini Plus is a petite model of Keurig that specializes in making one cup of coffee before the reservoir needs to be filled. The K-Elite Coffee Maker offers a lot of the bells and whistles of a higher-end coffee machine but is also significantly more expensive. Take a look at what specific needs you have in a coffee machine, and then find the Keurig that best fits those needs!
Can I use any pod in the Keurig K55?
This machine will brew any K-branded pod. It is also compatible with a refillable K-Cup for your own ground coffee. Even if it physically fits, if you have a pod that is not K branded, it will not brew in this machine.
What is the difference between the K50 and the K55?
The K50 is the predecessor to the K55. They both have a very similar look and feel, though there are a few key differences. The K55 comes with the descaler system built into the machine. Keurig customers also report that the K-Cup compatibility on the K55 is much better. If you have the choice, the K55 is always the better buy between the two.
Keurig K-Classic Coffee Maker K-Cup Pod, Single Serve, Programmable, 6 to...


Keurig K-Classic Coffee Maker K-Cup Pod, Single Serve, Programmable, 6 to...


What is the difference between Keurig models?
The difference between Keurig models is usually one of two things. One model may simply be the updated version of the other (in the case of the K50 and the K55), while others are made to offer additional features and functionality. You can get a Keurig machine with as many features and capabilities as you want in making coffee. However, keep in mind that with the more capability and features that a Keurig is designed with, the more expensive it will be.
Wrapping Up Our Review
If you are looking for a simple, easy-to-use, reliable single cup coffee maker, then the Keurig K55 is second to none. It does a great job of making coffee for a single person or a group of people (as long as you have enough K-Cups), it is very easy to clean and maintain, and it is about one of the simplest coffee makers you can find. For those looking to get a Keurig for the very first time, this Keurig K55 review and others agree that this coffee brewer is an enticing option.