Gear
Tens of thousands of people have experienced the convenience that is brought on by a single-serve coffee brewer. They are quick, easy, and perfect for people who love freshly brewed coffee but don't have the time to brew a fresh pot in the morning.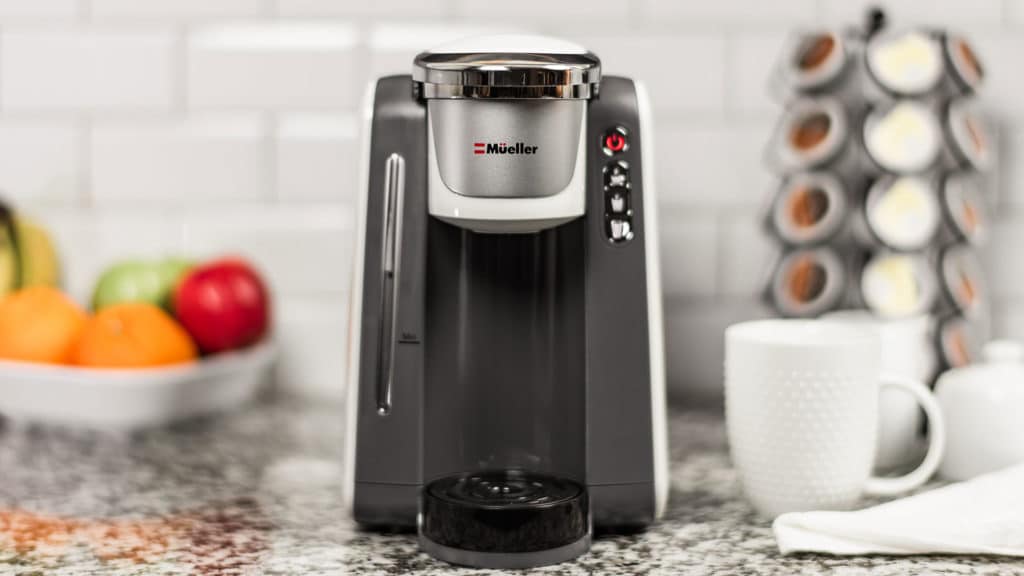 The Keurig brand has become ubiquitous with single-serve coffee machines. However, they are not the only option for K-cup coffee makers anymore. There are several brands that have become popular among coffee enthusiasts. One of the most popular brands has been Mueller and their Ultimate Coffee Maker.
Of course, buying a single-cup coffee maker that isn't a Keurig can be intimidating to some, especially if they don't recognize the Mueller brand. So, that raises the question: Should you buy this single-serve coffee brewer? Let's find out in this Mueller Ultimate Single Serve Coffee Maker review!
Sale
Features
The Mueller Ultima Coffee Maker offers straightforward, simple features that make this single-serve coffee machine easy to use. There are four cup size options: 6oz, 8oz, 10oz or 12oz. The 6oz, 8oz, and 12oz options are already pre-programmed into the front-facing buttons. The 10 ounce cup of coffee must be manually programmed in.
It also has Rapid Brew technology, meaning you aren't going to be waiting long for a fresh, hot cup of joe. The 48oz removable water reservoir can also be removed for easy filling and occasional cleaning.
One of the best features of this brewer is its versatility in the kind of pods it can take. It is designed to take 1.0 and 2.0 pods, and those pods do not need to be Mueller branded. That means as long as the pod actually fits into the machine, the Ultimata can brew coffee from it! If you are transitioning from a different single-serve coffee maker, that means it is very likely you can continue to enjoy your favorite pods that you've grown to love.
Performance
The performance of the Mueller Ultima single serve is comparable, and in some reviews better, than other similar single-serve coffee devices. It quickly heats up water and brews hot coffee, and the 48oz water reservoir means you can use this single-serve machine to quickly brew several cups of coffee for a group of friends or coworkers. The manufacturer doesn't make a claim to a specific speed of brewing like other brands, but you can expect a cup to take around a minute to be brewed and ready to drink.
Design
The design of this single-serve coffee brewer is simple. It features a lift lid where you place pods into the machine, and the power and brewing buttons are easily located on the front of the brewer. It is very compactly made, and many users that have migrated from Keurigs with similar water reservoir capacities have noted how much less space this coffee maker takes. The reservoir is also easy to clean, though the trip tray may be more difficult since it cannot be removed.
However, a potential downside to the design is its all-plastic design. This means that parts are more likely to wear down and breakdown when compared to coffee makers with stainless steel components. The plastic parts that come in contact with the water are BPA-free, and the coffee maker as a whole has UL and ETL certification (both of which are safety certifications), so customers can still drink with confidence!
Specifications
Capacity: 48oz
Materials: BPA-free plastic
Dimensions: 15.5 x 13.5 x 9.8 inches
Weight: 2.2 pounds
Suggested Retail Price: $79.97
Pros
Accommodates multiple brewing sizes
Removable, easy to clean water reservoir
Design is compact with sacrificing capacity
Compatible with most single-serve coffee pods
Most features are simple to use
Cons
All-plastic design
Some coffee brewing sizes need to be manually programmed, which some users have noted as confusing
No programmable brewing features to preheat water or brew at specific times
No power-saving features
Drip tray non-removable which may not be easy to clean
Should You Buy the Mueller Ultima Coffee Maker?
Whether or not you should buy the Mueller Ultima is going to depend on whether or not the features it offers are going to fit your brewing needs. If the following questions are a yes for you, then the Ultima would be a great fit for you:
Are you a first-time user of single-cup coffee makers and want something simple and straightforward to make hot coffee?
Do you hate the idea of proprietary K-cups and want the freedom to try any single-serve coffee pods?
Do you want a fast brewer that is also compact?
If the following questions are a yes for you, consider looking at other single serve coffee makers:
Do you want a lot of programmable options, including a power-saving option or the choice to program brewing times?
Do you want a drip tray that is removable and easy to clean?
Do you like a coffee machine that are is all stainless steel?
Are you wanting to avoid having to manually program coffee sizes?
Wrapping Up
The Ultima Coffee Maker is a great product for what it is: a simple, easy-to-use single-serve coffee maker that quickly brews hot cups of coffee that taste great. It is a solid alternative to other brands' coffee makers that offers similar functions and features. This single cup brewer can certainly get the job done. If the features of this coffee maker are enticing to you, as well as the price, you will definitely not regret buying this machine.
Sale