Looking for a small, elegant and easy to use espresso machine? Nespresso Pixie espresso machine is the perfect one for you. It is a sheer joy to use and can easily fit in the tiniest bit of room. The machine is made up of ABC plastic which makes it look urban and modern. The small machine is packed with some out of the box features.
Features of Nespresso Pixie in detail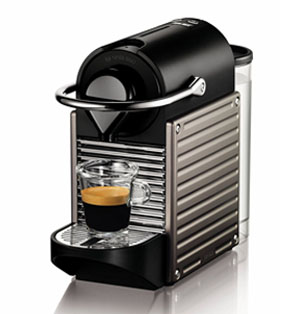 Beautiful and Elegant Design
The design of the machine will make you fall in love with it. It is enchanting and gives you a nice retro feel. The machine in itself is a piece of art. The side panels are perfectly aligned and are sleek with equal measures on all sides. The Nespresso Pixie espresso maker is available in many vibrant good looking colors such as lipstick red, black, brushed aluminum and brown, these colors will look great in every kitchen.
Compact in Size
Anyone who sees this machine will be astonished by such a small size. It is the smallest espresso machine in the segment with dimensions of 12 3/4″ x 4 3/4″ x 9 3/4″. The machine can fit in easily at most of the small nooks and corners without taking up much space. If your home or office lacks space, this machine would be perfect given its small size.
Quick Brewing with Coffee Capsules
The machine is completely automatic and works great with coffee capsules. It gets you a cup of espresso in no time, which is a great feature. The process is simple as well, you need to insert a coffee capsule and choose the number of shots ranging from 1 to 3 ounces. The pixie espresso machine makes you a hot cup of espresso just within 30 seconds. With the machine you get 16 coffee capsules and after it is finished, you can easily order online.
Very User-Friendly and Consistent in Espresso Shots
You must have noticed that the espresso shots from other coffee machines vary a lot. But with the pixie, be assured of the consistency. Just set the length of brew you desire and everytime you will get the same taste in the coffee. All the indicators are backlit which makes it easier to read. The machine is compact without much complex functions and thus it is very user-friendly.
All the machines have a set of advantages and little disadvantages with them. The Nespresso Pixie espresso machine has some pros and cons as well. Let's have a detailed look at them.
Pros and Cons of the Nespresso Pixie Espresso Machine
There are hardly any disadvantages about this small espresso machine. As this machine is small, the capacity is low which can be a downside for a large family or an office. However, it can be perfect for someone who is single or a couple. Cleaning this machine is also hassle free with just occasional descaling needed. Removing and attaching the water tank can be a little complicated at first but as you get used to it, it becomes easy too. The machine can easily accommodate larger vessels if you want it to.
The Taste of Espresso
No matter how nice the machine looks or how many features it may have, it finally comes down to how your espresso tastes. The Nespresso pixie gives you a great cup of espresso everytime with consistent taste. There are many choices of blends available with custom coffee capsules. With this machine, you can always be assured of the taste of your espresso.
Overall Experience of the User
All the customers have majorly loved the design of the machine more than anything. The machine has been made by keeping details in mind. The end user experience is something worth your money. If you are thinking of an espresso machine that provides the most value and is small too, you must definitely choose the Nespresso Pixie Espresso machine.
Conclusion
The affordable price and sleek design Nespresso Pixie Espresso machine makes it a must buy coffee machine for house. You can taste the best coffee every time you need to relax and get lost in its aroma. So decide now and get this machine for yourself.
Nespresso Pixie Espresso Maker, Electric Titan Review
Compact Brewing Unit Technology

Fast preheating time

Folding drip tray

Backlit LED water level detection

Programmable buttons
Summary
Nespresso Pixie C60-US-TI-NE, Electric Titan -the pixie heats up in only 25-30-seconds. Read unbiased review by coffee experts.